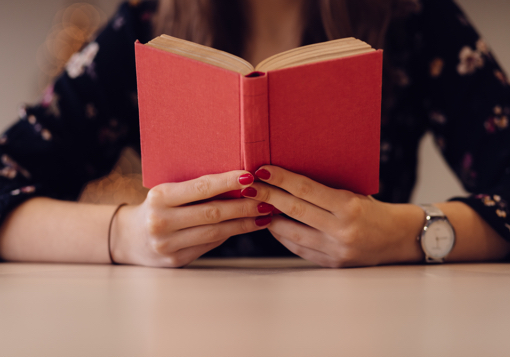 I was minding my own business when this random guy suddenly walked up to me and decided to give me a lecture on the purposes of womanhood. I was seventeen years old and was just trying to have a fun time with my friends at a local pizza place. This random guy struck up a conversation by asking me if I did any modeling.
After I responded no, he then asked me "why in the world not?!" My response apparently didn't satisfy him because he then launched into a 10 minute lecture on how much I was missing out on. 
"Someone like you shouldn't pass up an opportunity like this!" He said. "If you want to make some real money in this world, then take my advice and get into the modeling industry before it's too late. Don't waste your life on something average when you could have loads of money, fame, and success."  
Honestly, I had no idea how to respond to him.
I didn't even know his name. I did what any normal trying-not-be-awkward person would do, and thanked him for the advice and told him I'd think about it. 
Although I never saw that guy again, his words rang in my ears for days to come. Be successful. Don't waste your beauty. Take advantage of what life has handed you. Be powerful. Be strong. Become famous. 
As a teen girl, his words sounded pretty good to me. What girl wouldn't want all of those things? 
But even as alluring and enticing as his advice was, deep down, I knew there was more to womanhood. I had been taught enough by my parents and other godly women to know that God's design for womanhood was far more substantial than outward beauty, fame, and success. 
I had a burning desire in my heart to learn more about who God created me to be. 
That little flame led me on a journey that still continues today. Despite what pop-culture (or random guys) tell me, I've seen firsthand that God's design for womanhood isn't outdated or old fashioned, but beautiful, timeless, and inspiring. As I began to understand it correctly and embrace rightly, Biblical womanhood became an opportunity for me to showcase the life-changing picture of the gospel. 
Over the years, my personal perspectives on womanhood have been greatly shaped by books. That's actually a huge reason why I like to write books myself. If you have a burning desire in your heart to understand more about God's design for you, as a woman, I hope you'll take advantage of the many incredible resources available today. 
Here are the top 5 books that have impacted my perspective on womanhood:
In this powerful book, "Nancy exposes those areas of deception most commonly believed by Christian women—lies about God, sin, priorities, marriage and family, emotions, and more. She then sheds light on how we can be delivered from bondage and set free to walk in God's grace, forgiveness, and abundant life."
"Talk to women under forty today, and you will hear that in spite of the fact that they have achieved goals previous generations of women could only dream of, they nonetheless feel more confused and insecure than ever. What has gone wrong? What can be done to set it right? These are the questions Danielle Crittenden answers in What Our Mothers Didn't Tell Us."
"Feminism remains one of the most urgent issues the church is facing today, as shown by the increasing confusion over gender roles in marriages, families, and churches. With a growing number of theologians and denominations advocating radical gender egalitarianism, we must answer many questions about women in the church-and in the wider culture."
"Biblical womanhood is not for the weak. In an age that seeks to obliterate God and His authority, modeling biblical womanhood involves spiritual warfare. RadicalWomanhood seeks to equip new believers and long-time Christians alike, exposing the anti-God agenda of the three waves of feminism to date and presenting the pro-woman truth of the Scriptures."
"The Bible teaches that it's not up to us to decide what womanhood is all about. God created male and female for a very specific purpose. His design isn't arbitrary or unimportant. It is very intentional and He wants women to discover, embrace, and delight in the beauty of His design."
Becoming a girl defined by God won't happen by accident. 
If you want to know what God's design is for your life as a female, I can't encourage you enough to take intentional steps to learn and grow in this area. Grab one of these books and begin digging in today. I also want to mention another one of my favorite resources on this topic: Girl Defined: God's Radical Design for Beauty, Femininity, and Identity.
Bethany and I wrote Girl Defined as a result of the many truths we had learned about Biblical womanhood over the years. If you haven't read our book yet, it's a great place to start on your journey. 
In closing, I want you to know that God loves you and has an amazing plan for your womanhood.
Regardless of what anybody else tells you, you were created by God on purpose and for a good purpose. Don't look to the world for your identity. Look to God's Word. Look to your Maker. Look to the One who loves you more than anyone else. And when you do, you will discover how beautiful God's plan for you truly is.  
*Girl Defined is a part of the Amazon Associates program. By clicking the links above and making purchases on Amazon, you will be automatically giving a small portion of the sale to our ministry. Thank you!