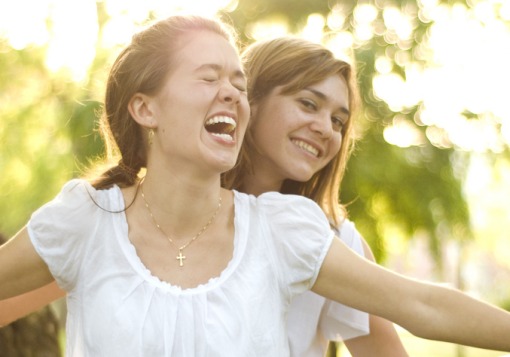 Exactly four years ago Bethany and I headed out on a road trip to a conference that we knew very little about. We heard it was going to be amazing but we had never experienced it first hand.
Four days later, a notebook full of notes, and our brains exploding with awesomeness, we knew we had discovered a gold mine.
I'm talking about the one and only True Woman Conference.
And now, exactly four years later, we're headed back to the True Woman '14 Conference in Indianapolis and we are SO excited about it. In fact, we're probably on the plane right now as you're reading this!
If you haven't heard of Revive our Hearts Ministries or a lady named Nancy Leigh DeMoss, you're missing out big time! That also means you probably aren't familiar with their "True Woman Movement" either. Bottom line – it's amazing.
Flashback four years. 
If you met Bethany and I four years ago you would have met two tall blonde sisters who had a passion for reaching out to teen girls, but weren't exactly sure what their vision was. Thanks to the True Woman Movement, our vision and passion has been ignited by their vision and they have helped us see what the most pressing issues are for girls and women today.
As a result, we have spent the past four years reading Christian books about biblical womanhood, listening to podcasts and sermons, going to seminars and conferences, and studying God's Word more intently.
We have discovered that our truest passion and heart's desire is to encourage, challenge, and equip teen and college age girls to become God-fearing, non-feminist, biblical females sold out for His truth.
Our personal journey. 
Our journey of striving to become a "True Woman" ourselves (as Revive our Hearts puts it) hasn't stopped. We plan on staying in God's Word and continuing to learn from those who are older and wiser than us. That's why we're flying to Indianapolis for the amazing True Woman '14 Conference right now.
And we want YOU to get in on the awesomeness with us!
If you have access to the internet and a smartphone or computer – guess what – you can join us for the True Woman Conference as well. This year, the conference is offering a free online registration and will be LIVE streaming the entire event.
If you're like us and need a spiritual boost every now and then, I guarantee the True Woman Conference will hit the spot. To give you a quick snapshot of what Revive our Hearts is all about, here's their vision for what a "True Woman" is:
A "true woman" lives a God-centered life.
In a self-centered world, she lives for God's glory and pleasure, not her own. She understands that life's not about her—it's all about Him!
Instead of saying, "What will make me happy?" she asks, "What will please You, Lord? What will further Your Kingdom and display Your glory?" She recognizes her life is not her own, and joyfully lives for the glory of God.
A "true woman" trusts God.
She doesn't give in to fear because she knows that God can be trusted. He understands everything about her situation, and His good and loving plan will not be thwarted.
She leans on Him and depends on Him in times of joy, pain, hardship, uncertainty, and confusion.
A "true woman" says "Yes, Lord."
She believes that God's purposes for creating male and female are good and wise.
She considers it a privilege and a delight to serve Him as a woman, and gratefully embraces His design and roles for her life.
We can't encourage you enough to take some time over the next few days to tune into the amazing, inspiring, encouraging, and refreshing True Woman Conference. We know your eyes will opened to new truths about your womanhood that you have never thought of before.
Like us four years ago, a fire just might be kindled.
For a complete schedule of the conference click HERE.
To watch the live streaming click HERE.
We'll be back on Friday to follow up on what God is teaching us in Indianapolis! Hey, maybe you can spot us on the live streaming video too. Just look for two tall blonde heads. 😉
In the meantime, ask yourself these questions:
Do you desire to become God's True Woman (aka, a godly girl)? If so, what are you doing today to make that happen?
Do you spend more time filling your mind with the world's messages about womanhood or God's message?
If possible, will you make efforts to tune into the True Woman '14 Conference? If so, pray that God would give you a teachable heart.
 Photo credit: www.flickr.com | Lori.E.Burleson