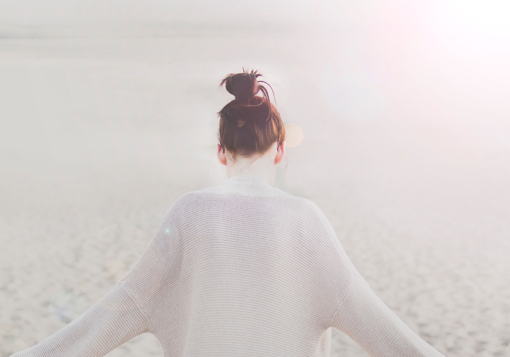 "It's just so hard to trust God with my future when I have no idea what's going to happen," she said in a discouraged tone. "I mean…I want to trust God, but it's just really hard for me. What if I never get married?"
I listened as my friend shared her heart with me. She was single and really struggling to trust God with her love life. She was in her late twenties and was wondering if marriage would ever become a reality.
Trusting God with the unknowns of the future can be one of the hardest things to do.
There's so much uncertainty in the unknown.
"What if I never get married?"
"What if my best friend moves away?"
"What if I get in a bad car accident?"
"What if God calls me to do something I'm not good at?"
"What if…?"
"What if…?"
"What if…?"
Worrying about the "what ifs" can be the biggest enemy of our peace and joy. I know this first hand and it's not fun. In fact, I have several "what ifs" in my own life right now. Life is full of unknowns and that will never change.
Instead of fretting and worrying over my future, I've come to understand some amazing truths that have given me the confidence to totally trust God.
In fact, my encouragement came from an unlikely place in the Bible and from an unlikely man.
I was reading in the book of Genesis recently and came across a familiar story of a man who was facing a lot of "what if" questions. And you know what? He was really struggling to trust God with His future. From a human standpoint, he had some pretty good reasons to worry too.
For starters, God told this man (Abraham), at 75 years old, to pack up his stuff and move away from his family and friends to a completely foreign land. The crazy thing is, Abraham seemed to do a pretty good job at trusting God right here. The Bible says, "So Abram went, as the LORD had told him…" (Gen. 12:4a).
Abraham was probably excited about God's amazing promise to Him: "I will make you a great nation, and I will bless you and make your name great…" (Gen. 12:2).
Not bad!
Fast forward a little while and Abraham is starting to struggle with trusting God's plan.
Abraham is starting to ask some "what if" questions about his future. He's getting older and his wife is kinda getting to that point where having children might be physically impossible.
In Genesis 15 Abraham questions God by reminding Him that he is still childless. Ummmm…hello, God? Did you forget about me? I kinda need a son if I'm going to have all those descendants you mentioned…
Abraham is worried about his future now. He is losing faith in God. His wife loses faith in God too and they both decide to take matters into their own hands. You know the story (Ishmael, lots of drama, etc.).
Fast forward 24 years later from God's initial contact with Abraham, and guess what?
Abraham still doesn't have a son. He's 99 years old now and really starting to worry. God sees the worry in Abraham's heart and reminds him that the amazing promise still stands.
"I will make you exceedingly fruitful, and I will make you into nations (plural), and kings (plural) shall come from you" (Gen. 17:6).
Abraham couldn't see the big picture. He couldn't see down the road of his life. He couldn't imagine that nations and kings would come from him! He struggled with trust just like you and me. He was 99 years old and had no proper heir. He had NO idea how his future would pan out.
But God did.
What Abraham forgot – and what we often forget – is that God sees the bigger picture. God holds the bigger plan in His hand. God knew that nations and kings would come from Abraham.
Abraham just needed to trust Him. Abraham's worries and fears were in vain. When he doubted God's faithfulness, he lost the strength to trust.
This story from Genesis is such an amazing reminder of why we should trust God with our futures. When life seems confusing, when circumstances seem impossible, when the future seems uncertain, God is there. God is in control. God sees the bigger picture. He holds the bigger plan.
God can be trusted. 
Regardless of how "uncertain" our futures may seem, God is faithful. We have to make the choice on whether or not we're going to trust Him. Abraham learned this lesson the hard way.
The truth is, we all have "Abraham moments" in our lives. We all lose sight of God's faithfulness at times. However, let's learn from Abraham's life and not stay there. Let's remind ourselves of the BIG picture. Let's remember how faithful God was to Abraham.
Let's remember that God can be trusted with our futures, no matter what we're facing.
When you begin to doubt, pull out Proverbs 3:5-6 and read it: "Trust in the Lord with all your heart, and do not lean on your own understanding. In all your ways acknowledge him, and he will make straight your paths."
God is faithful and you can trust Him with your future.
Now I want to hear from you. Do you have any "Abraham struggles" in your life right now?
How are you currently struggling to trust God with your future?
Why do you think you doubt God's goodness and faithfulness?