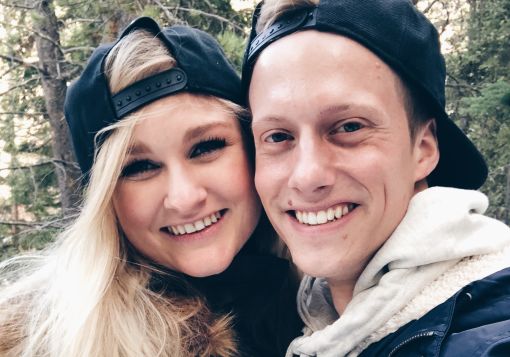 I was a thirty-year-old virgin on my wedding night.
That isn't a shock to any of you who've followed my story. In fact, many of you sent me emails and DM's before I got married asking me if I was nervous about the wedding night. I responded to your questions through a blog post titled: Am I Nervous About the Wedding Night?
Today I want to answer the dozens of e-mails and DM's I've received since getting married. It seems like most of you want to know if being a virgin on my wedding night was awkward.
Was I excited or terrified about the wedding night??
I'm going to answer as honestly as possible. My hope is that some of your fears and concerns about the wedding night can ease up a bit through my story. I'm not a "sex expert" in any way. I've been married for 6 months. I'm not a "pro." (Whatever a "pro" even is…)
First off, I want to start by saying this.
Who says you have to have sex on your wedding night?  
Sex is so much more than a wedding night experience. The pressure others put on newlyweds is ridiculous! For crying out loud. Let's give newlyweds a break. They have their entire lives to enjoy sex. There is no reason to feel pressured into doing everything the first night. If a couple is tired from the entire day (they just had the biggest day of their lives!) they should feel the freedom to relax and go to sleep.
There are NO rules for the wedding night!
I personally think newlyweds would enjoy the honeymoon SO much more if they took the pressure off of themselves. That's exactly Dav and I did. Yes, we were freaking excited for the honeymoon and excited to enjoy sex together. But, we didn't allow others expectations of what that should look like to rob us of our journey and experience.
We did what was fun for us and comfortable for us. We didn't force ourselves to follow some "timeline." We honestly just had a blast enjoying each other and exploring the sweet newness of our marriage.
Talk about super hot and romantic!
I think that there's nothing sexier than two newlywed lovers enjoying and exploring sexual intimacy in the context of marriage. God totally knew what He was doing when He reserved sex for marriage. Talk about ROMANTIC for the newlywed couples.
I can tell you this for sure. Being a virgin on my wedding night was not awkward. It was the opposite. It was sweet, new, different, exciting, and filled with all the butterflies a stomach can hold. Does that mean Dav and I had sex on our first night of marriage? Maybe we did and maybe we didn't. That's not really the point anyway.
Here's something important to consider.
Sex within marriage should be the most non-awkward experience ever. Yes, it will be new, different, exciting, thrilling, clumsy, funny, and a total learning experience. But, it's with the man who has entered into a covenant with you and has committed to loving you with all of his life for the rest of his life.
This isn't some one-night-stand-cheap-thrill.
This isn't with some dude who's committed NOTHING to you! This isn't with some boyfriend who could leave you for a better "experience" or hotter body.
This is your husband. The man who has given up all other potential options and has chosen you. He wants you. He desires you. He's committed to God to love you like Christ loves the church.
That should be the most beautiful, safe, and secure place to enjoy sexual intimacy for the very first time.
If you want to know how I gained this mindset and went into my wedding night excited for the honeymoon, here's what I did.
I studied God's incredible design for sex and sexuality.
In fact, I was writing Sex, Purity, and the Longing's of a Girl's Heart while I was dating and engaged. Writing this book forced me to dig deep into good books, blogs, sermons, and teachings on biblical sexuality. That was the best prep for my honeymoon.
I would encourage every new bride to study God's design for sex and sexuality. Grab a copy of Sex, Purity, and the Longings of a Girl's Heart if you want to gain a biblical understanding for this area of your life.
Find a godly mentor.
This was HUGE for me!!! I found several women who were able to help me emotionally, mentally, and even physically prepare to be a new bride. Their wisdom and guidance were priceless.
Okay, I'll stop there.
I would LOVE to answer your questions though. Please feel free to comment below with your most pressing questions. I'd love to interact with you and help you overcome your fears in this area.
PS We're giving away a big bundle of FREEBIES to anyone who pre-orders Sex, Purity, and the Longings of a Girl's Heart by April 29th. Don't miss this amazing bonus package. For more details, click here.