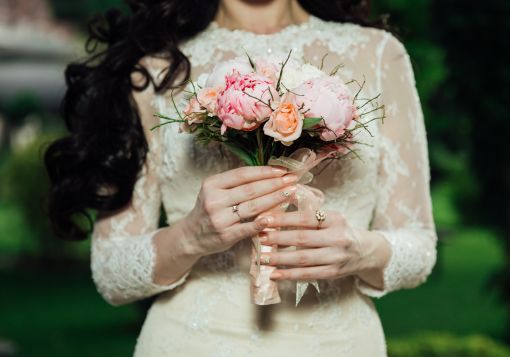 I can remember it like it was yesterday: walking down the aisle, ready to start a new life with my soon-to-be husband.  I was giddy with excitement and full of nerves all at the same time.  Not knowing what the future held we were ready to explore this journey together.
Fast forward a year, where had the time gone?  We made it through the first year which is said to be the hardest year of marriage!  Let me just say this, it was definitely not a walk in the park.  Even though no two marriages are alike, there are things that I wish I knew before going into my first year of marriage: 
1. That our relationship would change.
We had no idea that the transition from dating to marriage would change.  We assumed that after we said I Do that we would continue on our merry way, but things did change.  Those things that didn't bother me while we dated became annoyances once we got married.  No one told us that we would evolve on this journey even after a year.  No one shared with us the importance of understanding each other's love language.  We got it now!
2. That marriage was not just about me.
Listen, this was a hard pill to swallow. "It's my marriage and I want what I want when I want it". How many of you have said that? That's how I felt back then.  I assumed that when we got married that it would be my way or no way. Selfish thinking- yeah, I know. I was so self-absorbed with what I wanted that I couldn't hear or see his needs. I soon realized that this behavior had no place in our marriage and would hinder our marriage from growing.
3. That our different backgrounds would affect how we deal with marriage challenges.
This was a hard one. We struggled to reconcile our views on family and dealing with conflict.  Our beliefs and attitudes caused additional tension and stress on our marriage.  We had to learn to be more intentional explaining why we felt a certain way and to recognize that a difference of opinion wasn't going to cause our marriage to fail.
4. Communication is more than just words.
Words are an important part of communication, but not the only part: body language, tone, and even what's not being said all are important when communicating. This was so important for us to learn especially when dealing with conflict.
5. The importance of setting realistic expectations.
We went into marriage on a lot of assumptions. We didn't talk openly about what we expected from each other or our marriage.  I don't think we knew to do it back then or even if we knew how to have that conversation.  This is now a regular discussion item in our marriage.
6. The power of prayer.
This! Prayer has saved my marriage on so many occasions. I didn't realize the impact that it would have on our growth as individuals and as a couple.  We learned over the years that prayer is the ultimate love language.
I love who we are now even more than we were back then. Those things that we didn't know prior to our first year hasn't stopped us from becoming the couple God called us to be.  I look at him now and still get butterflies.  Those challenges have made us who we are today even after almost 31 years.  I wouldn't trade our experience for the world.
ABOUT THE AUTHOR: My name is Keisha Bass. I was born in Georgia, grew up in Harrisburg, Pa and Wadley, Ga and I first met my hubby, Chris when we were in the 2nd grade. We talked off and on over the years, but didn't get serious until our junior year and the rest is history. Chris is my biggest fan and my favorite person!
We've been married for almost 31 years, have 2 children- Lakia and Chris.
I've always had a passion to help couples grow in their marriage and help wives become the wife they desire to be. That's why I started Her Dope Marriage. There you'll get encouragement for your marriage, self-love, power of prayer, marriage affirmations, scriptures, and so much more.
God has allowed me to walk in this season to inspire and motivate women.