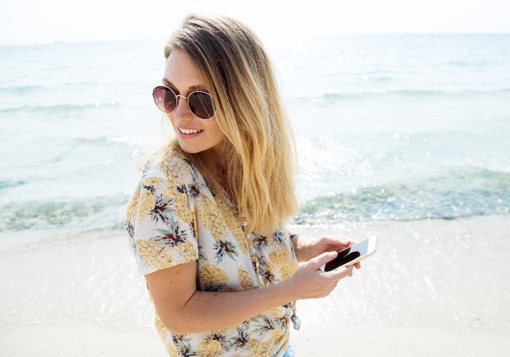 I sat on the sand in a knee-to-knee circle with my three closest girlfriends. As southern California locals, every summer Friday found us at the beach with a group of families.  Beach days were the best…cool ocean, sizzling sun, sand talks, and snacks in abundance. 
"We need to talk about something. I think we chat about guys too much."
My friend Grace was the quieter one in our circle, so she caught our immediate attention with her blunt statement. Like typical teenage girls, we loved to chat about our friends.  Especially our guy friends. 
Even though we were Christian girls who had chosen to intentionally not date in high school, guys and romance were still very interesting. Conversations that centered around the drama of who-likes-who, dissecting the personalities of our guy friends, swapping anecdotes of the latest interesting moment with a boy…the entire topic excited our feminine minds above all else.
Grace observed that our conversational focus was becoming a little too absorbed in guys. 
Truly wanting to worship God with our minds and hearts, we felt convicted and came up with an amusing awareness plan to help monitor future conversations (more on this later).
If you're an unmarried gal desiring to spend her single years being poured out for God, I encourage you to check your heart. Is your focus distracted by an ever-flowing stream of guy-talk? Or are you energetically pursuing an abundant life in Christ?
You may be thinking, what's the big deal? Why shouldn't I talk about guys?  It's fun! After all, everyone is doing it!  Isn't it normal? It is true that, as women, God wired us with an innate relational aptitude. This makes us especially prone to nurture, encourage, talk, and be interested in the closest of all earthly relationships: marriage.  
While it is good to desire romance and marriage, God knows how imperative it is for His daughters to pursue and worship Him above our relational status.
The unmarried or betrothed woman is anxious about the things of the Lord, how to be holy in body and spirit… I say this for your own benefit, not to lay any restraint upon you, but to promote good order and to secure your undivided devotion to the Lord.  1 Corinthians 7:34-35
God wants our devoted attention and worship. Not only is He holy and worthy, but He also knows that we can only be ultimately satisfied in Him. He doesn't want to "restrain" us, but to encourage us to focus our minds appropriately for our current reality. He's saying that there is a proper, "good order" to different phases of life and the type of mental attention that each demands.
The Lord Jesus Christ also says that whatever comes out of our mouths directly reflects the contents of our hearts (Luke 6:45). So this begs the question…with what is our heart filled? Cute guys and the latest romantic gossip? Or do we overflow with zeal for our loving Father?
Looking back now, the solution that my friends and I agreed upon was hilarious.
We came up with with a "timer remedy." We would not exceed a certain amount of guy-talk time on the clock. We literally hit stop and start on a timer for ourselves when the topic of guys would inevitably circle around.  
While the timer remedy was a bit impractical and childish, it definitely exposed the frequency level of our guy talks. It caused us to reevaluate our hearts, especially in light of our season in life (high school) and who we ultimately wanted to become: strong women of God.
That being said, you may be wondering "Is it ever ok to talk about guys?"
Lest we become lost in legalism, I am not about to show up on your doorstep with a timer in hand! God designed intentional dating and marriage to be a very good chapter in life to anticipate and enjoy. It is only fitting for us as young women to discuss and prepare for that season.  
So what should we talk about? Here are some tips to help balance this area:  
Since a Christ-centered marriage is the ultimate goal of romance, talk about godly character qualities that you admire in your brothers in Christ.  

Instead of drooling over a cute guy with your friends, challenge each other to thank God for physical attraction and save up your sexual desire for marriage.

Instead of constantly chatting about who-likes-who, start praying with your friends for your future husbands.  

Talk about a guy you may be noticing with your family or trusted mentors. Practice the habit of having those conversations so that you can easily glean wisdom when you're in a serious relationship.

Talk about how to be uplifting friends to the guys in your life.

Talk about what you're looking for in a future husband and why.
Let's chat in the comment section below!
Are you distracted by perpetual guy convos?

What is coming out of the overflow of your heart?

How can we thirst for closer intimacy with Christ?