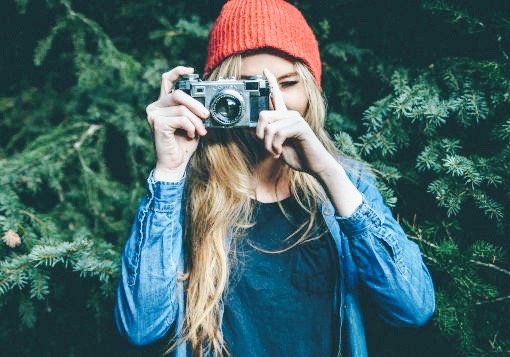 "You have got to be kidding me?!" I said to Bethany in a mildly shocked tone as she showed me a photo on her phone. "Did you really see that shirt in the store?"
"Oh, yeah," she replied while raising her eyebrows and smirking. "Welcome to the twenty-first century!"
A popular store in town was selling a t-shirt with bold words on the front that said, "I Heart My Selfie."
I immediately did some research online to see if this "trend" was actually popular. To my astonishment, I found an entire line of "selfie" products.
You can purchase any of the following items with the words "I Heart My Selfie" written on them.
No joke. Take your pick…
I Heart My Selfie coffee cups.
I Heart My Selfie bath robes.
I Heart My Selfie hoodies.
I Heart My Selfie cell phone cases.
I Heart My Selfie bumper stickers.
I Heart My Selfie tote bags.
I Heart My Selfie magnets.
After scrolling through pages and pages of "selfie" merchandise I couldn't help but roll my eyes. I thought to myself, "what in the world has happened to our society?!"
Since when did we become so obsessed with ourselves?
As I sat there staring at the computer screen and thinking about the crazy state of our culture, I was struck with an eye-opening realization.
Our "selfie culture" isn't a new thing. It isn't an isolated twenty-first century American trend. In reality, the selfie culture has been around from the very beginning of time.
Sure, we're probably the first generation to sport the "selfie tee," but we're not the first to be obsessed with adoring ourselves.
Loving ourselves isn't a cultural fad, it's an age old sin.
As I sat there "judging" all of the people who purchased selfie gear, God totally convicted my heart.
Just because I don't wear an "I Heart My Selfie" t-shirt doesn't mean I'm not obsessed with myself. Just because I don't take hundreds of selfies and post them on Instagram doesn't mean I'm not vain. Just because I don't walk around with a selfie stick in my hip pocket doesn't mean I'm better than anybody else.
My prideful heart slowly came into view as God opened my eyes to my own sin. I have a selfie obsession too, it just looks different. I love myself and constantly struggle to put others first.
In fact, if you're a sinner living in this world, you have a selfie obsession too.
The truth is, our thoughts and words are just as revealing as our pictures and "gear."
Our actions, attitudes and words reveal who we love the most.
Every time I get upset at my husband for not doing things my way, I'm choosing to love myself. Every time I'm rude to my sister, I'm choosing to love myself. Every time I insist on having things my way, I'm choosing to love myself.
These selfish actions reveal who I love and value the most. Myself.
Loving myself comes 100% natural for me. I don't have to work at it. I don't have to try. I don't even need the t-shirt. My autopilot mode is to love and adore myself.
God knows how dark and self-centered our hearts are, so He gave us specific verses to combat our self-obsession.
This isn't a new problem. Listen to how countercultural these verses are.
Philippians 2:3-4 "Do nothing from selfish ambition or conceit, but in humility count others more significant than yourselves. Let each of you look not only to his own interests, but also to the interests of others."
1 Corinthians 10:24 "Let no one seek his own good, but the good of his neighbor."
Luke 6:35 "But love your enemies, and do good, and lend, expecting nothing in return."
These verses fly in the face of the selfie culture because they teach us to do the opposite of loving ourselves.
They teach us to look outside of ourselves and love others.
They teach us serve others even when we don't feel like it. They teach us to set aside ourselves and seek the interests of others.
Do you know what opposite of "self" is? I wasn't sure, so I looked it up online and this is what I discovered.
The opposite of self is "the other."
The other.
Basically, these verses are encouraging and commanding us to take the focus off of ourselves and put it on the others.
As Christian girls, we should look different than the selfie-focused culture around us.
We shouldn't be known for our selfish actions, attitudes, and words, but our constant attention to serving and loving the others.
If you want to have a joy filled life, focus on serving the others around you. People who spend their lives loving themselves always end up dissatisfied and miserable. Why? Because there's no fulfillment in loving ourselves. God made us to be like Himself. And loving God and loving others is exactly how we do that (Matthew 22:37-39).
I want you to pause and ask yourself who the others are in your life.
Who are the people around you?
How much time have you spent focusing on loving your parents lately? How much effort have you made in building a relationship with that hard-to-love sibling? How much serving have you volunteered to do at your church? How many sacrifices have you made to invest in your grandparents?
Getting outside of ourself isn't easy, but it's necessary as followers of Christ. If we want to be authentic Christian women in a lost world, we have to be others focused.
I have a challenge for you today:
I want you to think of one person in your family right now. Do you have someone in mind? Okay, I want you to focus on loving them more than yourself today.
Let them sit in the front seat, let them pick the movie, let them share their thoughts with you, let them have the biggest dessert, let them borrow your phone if they ask. Make them feel the love. Serve them like never before! At the end of the day, you will be shocked at how fulfilling it is to get outside of yourself and focus on the other.
Let me know how it goes, too!
Let's chat below.
In what ways do you struggle with being "selfie" focused?
Who is the other that you are going to serve and love today?
What habits and choices need to change in your life to make you less self-focused and more others-focused?
Photo credit: Here