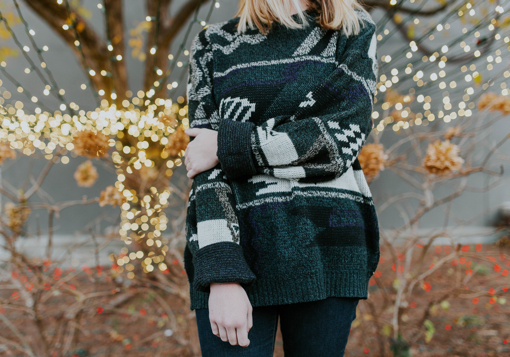 Tis the season to be jolly, right? But how does that work when all I want for Christmas is you, baby? Christmastime is supposed to be a time of wonder, excitement, love, and joy — but sometimes this holiday season can feel at odds with the season of singleness. I remember this all too well.
Although I'm married now, I was unmarried for 24 years and I can clearly remember being single and hearing those sappy, romantic Christmas songs play on the radio. A twinge of loneliness and desire would fill my heart. As hard as it was for me at times, I wouldn't stay in that place of sadness for too long. I would remind myself that Christmastime is far more than love songs, romantic sleigh rides, and candlelit dinners.
Christmas is a season for all people in every season and stage of life.
It's for children, teenagers, single people, married people, middle-aged people, and the elderly. It's a season of wonder and joy, but not because of romance…but because the Savior of the world came down to this earth out of love for each one of us. Christmastime is a celebration of the greatest kind of love that ever existed.
As hard as Christmastime might feel for you right now, I want to encourage you to stay hopeful this year. Not hopeful because you're going to land a boyfriend…but hopeful because the Savior of the world sees you and knows you. He loves you and wants to have a soul-satisfying relationship with you. He can be trusted with your love life (Prov. 3:5-6). He can be trusted to write the perfect story for your life.
As you surrender your desires to Him, know that He's got them safely in His hands.
As you strive to trust God with your love story, there's something else you can do too. Christmas doesn't have to be as bad and as hard as you think. However, don't make it harder on yourself that you have to. I was chatting with a single friend recently and she shared with me some helpful things she's implemented into her life during Christmastime to help keep her focus in the right place. Here are some of the things she mentioned.
Things to Consider Avoiding:
1. The Hallmark Channel
Sappy, cheesy love stories may seem cute and innocent, but these type of movies can often fuel your unmet desire for romance. If you find yourself struggling with contentment, don't be afraid to simply turn off the channel and watch something else instead.
2. Romantic Christmas Songs
Listening to romantic love songs might not be the most helpful for your heart this Christmas season. If you find these songs tugging at your heart, don't listen to them. Change the station to something else. It's that simple! 
3. Daydreaming About the Future
Be intentional to guard your thoughts from wandering off into a make-believe winter wonderland where prince charming is waiting for you. When you find your mind drifting to unhelpful places, pray and ask God to redirect your thoughts the here-and-now. Thank Him for something special about this season of life.  
Great Things to Pursue:
1. Listen to Christ-Centered Christmas Music
There's an endless array of non-romantic Christmas music to choose from! Have fun with it.  Create some playlists that are filled with fun and Christ-centered Christmas songs. This will help you keep your heart focused on the right things.
2. Watch Fun, Non-Romantic Christmas Movies
Christmas movies are always a fun thing during the month of December. However, be selective about what you watch. Rather than binging on the Hallmark channel, watch some fun non-romantic movies (i.e. Polar Express, The Nativity, Arthur Christmas, The Star, etc).
3. Host a Girl's Christmas Night
Rather than sitting around wishing you had a boyfriend, get proactive! It's still not too late to host a fun girl's night. Keep it simple. Invite some friends over for some hot chocolate and cookies. Do a craft or play a game. 
4. Focus on Blessing Others
The best way to have a fabulous Christmas season this year is to focus your attention on blessing others. If you're busy loving on other people, you won't have as much time to focus on yourself. Watch our recent VLOG for 5 great ideas on how to bless someone this month.
Singleness and Christmastime are both seasons that can truly mesh quite nicely.
Don't fall prey to self-pity and discontentment this year. Instead, get proactive about making this Christmas the most wonderful time of the year! When you're feeling down, remind yourself that God is good and completely in control. When you're feeling hopeless, remind yourself that the Savior of the world loves you and came to this earth for you. When you're feeling anxious, remind yourself that God has a good plan for your life and can be trusted. With the right heart focus this year, you can have an amazing Christmas season. 
If you're single, I'd love to hear from you below!
What other ideas (whether things to avoid or things to pursue) would you add to my list?