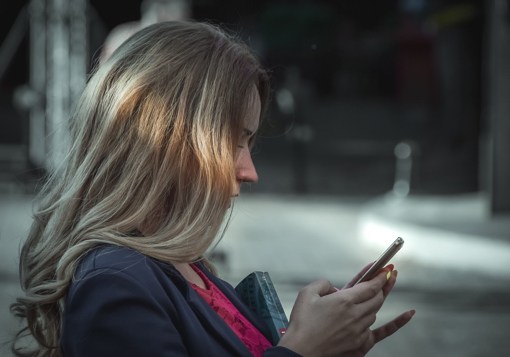 "I just don't know what to do!" she said to me, with a discouraged look on her face. "One of my friends is sending nude pictures to her boyfriend and I feel like I should say something to her. I don't think it's a good idea…but I'm just not sure what to say!"
This is a real conversation I had with a teen girl after a Girl Defined event. She was totally discouraged about her friend's sexting habits but had no idea what to say to her friend.
As much as I'd like to hide under a bushel and believe that sexting and nude-photo-sharing are rare, it's not. One statistic revealed that close to 40% of teens engage is sending and/or receiving sexually explicit messages.
And with cell phones becoming more and more common at younger ages, this number is only going to rise.
Sadly, much of pop culture is encouraging sexting as a normal part of single life now. With the boom of erotic content in mainstream media, sending personal erotic messages is becoming the new norm.
In researching for this article, I found articles on Cosmo (which is geared towards young single women) with titles like, "Why Sexting Is Good for You," and "Scientists: Sexting Is Totally Normal," and "A Safer Way to Sext."
Here's a snippet of the advice that was offered:
"We've all heard what techno-alarmists say about sexting: that it's shameful, deviant, exploitative, and just stupid. But in many ways, it's a new genre of personalized erotica. Now, everyone is her own author and illustrator with the ability to create provocative, graphic stories for herself and her object of desire."
With sexting being encouraged like this, it's no wonder it's becoming increasingly common and more accepted amongst teens and singles.
Whether you like it or not, you're being encouraged by pop culture to view sexting as a normal and healthy activity. Here are some of the biggest lies about sexting that I've seen.
4 lies society is teaching you about sexting:
Everybody is doing it.
There's no harm in sexting.
Sexting is healthy in dating relationships.
Erotica is the foundation for a good romance.
Okay, first off – everybody is not doing it. Sure, 40% of teens engage in sexting, but that still leaves 60% who aren't. When Zack and I were single, we made it through our entire relationship without ever sexting. I know dozens of young dating couples and single Christian girls who intentionally choose not to sext.
Second, there is a lot of harm in sexting. The minute you click the send button, that text or image is in the hands of someone else who can do whatever they want with it. They can show it to whomever they want and even post it online. Without even realizing it, you could be putting yourself in the hands of an online sexual predator. Not to mention the potential blackmail that could haunt you forever.
In addition to that, sexting and erotica are not healthy in dating relationships because it creates a hyper-focus on sex.
Rather than getting to know each other's personalities, character, beliefs, and interests, the couple is zeroed in on sexual attraction. Relationships that are supercharged with sexual stimulation prematurely don't usually last long because the relationship is built on nothing more than sex appeal. Once the steam dies down, the relationship dies.
As Christian girls, we need to be intentional about not getting swept up into this new cultural flow. Whether you've engaged in sexting or not, I hope this post will help you see past the lies and think Biblically about this activity.
4 Reasons Sexting Isn't God's Best for Single Girls:
1. Sex was Created for Marriage.
God is the author and designer of sex, and He created it to be enjoyed by married couples only within a covenant marriage. Sex without marital commitment is almost always self-destructing. Since sexting is definitely a form of sexual activity, it is outside of God's boundaries for singles.
2. Lust is a Sin.
Sexting is fueled by one thing – lust. Since there's no possible way to send sexually explicit images and texts in a pure and God-honoring way, this activity should be an obvious "no" for the Christian girl. Rather than giving into our fleshly desires, God says, "Flee from sexual immorality. Every other sin a person commits is outside the body, but the sexually immoral person sins against his own body" (1 Corinthians 6:18).
3. Nudity Rejects God's Design for Modesty.
God values modesty and purity and commands us to embrace this in our lives through our actions, attitudes, and clothing (1 Corinthians 6:19-20, 1 Timothy 2:9-10). Sending provocative images of yourself to a boy mocks God's plan for us to be a reflection of Christ through modesty, humility, and purity.
4. Purity is Still a Priority to God.
Purity is obviously not encouraged in our modern culture anymore, but it is still very relevant to God. As God's children, we are called to "Be holy because I [Christ] am holy" (1 Peter 1:15-16). Building a deep relationship with God will ignite in us a passion for purity and holiness which will be lived out in our daily lives and activities.
As a Christian girl, it's only going to get harder and harder to stand for God's truth in this modern generation. Rather than getting swept away in this cultural flow, I pray you will choose to honor Christ with your life and say no to popular trends like sexting.
I pray you will cultivate a love for Jesus that drives you to live your life for His glory, no matter how counter-cultural it may be.
Let's chat below.
In what ways have you been exposed to sexting and how did you handle it?
What other lies would you add to my list from above?
What other truths would you add to my list?