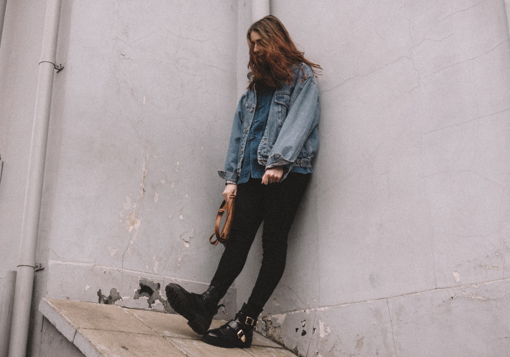 The news of Kate Spade committing suicide broke my heart. The reality of suicide is a sobering and tragic act that leaves behind more questions than solutions. Most of us will never know the depth of personal struggles that Kate was facing, but we know that she was hurting. She felt hopeless. For her, the only solution that seemed right was to end her life.
In the wake of her tragic suicide (and others like it), the media is never quite sure how to respond. It's a confusing puzzle. Why would someone as beautiful and talented and successful as Kate want to end her life? From a billion dollar business to international fame, she was a woman who seemingly had it all. So why…?
We may never know the answer to that question. I don't know her personally and so I will not try to figure out her motives. Only God knows the depths of her heart. But what I do know is that she was hurting so bad, with no hope, that suicide became a viable solution in her eyes.
With sincere compassion and grace, please hear me when I say this — suicide is never the right solution.
No matter how hopeless, painful, and alone someone may feel, suicide doesn't solve the real problem. It launches a person into eternity while leaving behind a trail of incredible confusion and suffering for family and friends. It doesn't fix things; it only leaves them more broken and shattered.
When contemplating the harsh reality of suicide in light of Kate Spade's permanent choice, it's critical that we think about these things biblically. We must view these tough issues from a biblical worldview, or we will be left with no hope as well.
First, God created humans — we are not autonomous.
We are not the source of truth and law. We are not the judge. God is the one who determines life and death. He is the Creator. "The Bible teaches that it is Jehovah who made us, and not we ourselves (Psalm 100:3). All people belong to the Creator (Ezekiel 18:4), and He has the "right" over them (cf. Genesis 2:7; Romans 9:21). Humanity is responsible to God."1
Second, life is a gift from God.
The Bible makes it abundantly clear that life is a gift from God (Acts 17:25; 1 Timothy 6:13). He is the reason we exist. He is the one who gives us breath and life. As John Piper says, "Our bodies — their life, their death — belong to Christ. He bought them. They are not ours to dispose of as we will. They are his. And they exist for his will, and his glory."2
Third, suicide is self-murder.
God is the creator of life and light. His arch-enemy, the Devil, is the promoter of death and darkness (John 10:10). Murder (regardless of why or how it happens) is an act of evil and is prohibited by God (Exodus 20:13; Romans 13:9). We will never know the deepest pain and motives of someone committing suicide, but "it is estimated that more than 90% of suicide victims are considered to be normal, sane persons."3 Suicide is the final act of desperation for someone who is looking to themselves for escape rather than turning to their Creator for hope.
Fourth, we aren't enough, but God is.
In and of ourselves, we aren't enough to solve life's deepest pains and sorrows. We aren't enough to free ourselves from guilt and shame. That is why Jesus came to this earth. To offer us hope, life, and forgiveness from sin (John 3:16). In Him we have hope. In Him we can experience freedom. In Him, there is always a reason to live. John 8:32 says, "Then you will know the truth, and the truth will set you free."
Lastly, Jesus offers hope that suicide doesn't.
As one author puts it, "[Jesus] is waiting for you to allow Him to speak into your life with Truth, love and hope. "Therefore humble yourselves under the mighty hand of God, that He may exalt you at the proper time, casting all your anxiety on Him, because He cares for you" (1 Peter 5:6-7). He is waiting for you to give Him your life and accept His gift of salvation, or perhaps you've already accepted that gift and He's waiting for you to hand over control so He can lead you out of the darkness of despair to the beautiful, glimmering light of hope."4
Regardless of how hopeless, lost, confused, or hurting someone may be, suicide isn't the right answer.
It doesn't truly solve any problems or fix the brokenness. It only adds to it. "The thief comes only to steal and kill and destroy. I came that they may have life and have it abundantly" (John 10:10) Jesus offer life and in Him there is a path to healing. He offers a path toward restoration. No amount of pain, guilt, shame, or sorrow is too great that the cross is not greater still.
God loves you and sees you. He cares about you. In Him you have immense worth and value. Nothing this world has to offer is enough to satisfy the deepest longings in our soul. As tragic and heartbreaking as Kate Spade's suicide is, may this be a sobering reminder that success and wealth cannot fix the brokenness in our hearts. Only Jesus can do that.
If you or someone you know is contemplating suicide, please reach out for help immediately:
National Hopeline Network: 1-800-SUICIDE
National Suicide Prevention Lifeline: 1-800-273-TALK
For hearing and speech impaired with TTY equipment: 1-800-799-4TTY
Español: 1-888-628-9454
For additional help and guidance, I encourage you to take some time to read the following articles:
Why Should I Not commit Suicide?
Can a Christian Commit Suicide?
Helping My Friend Who's Suicidal
NOTES: