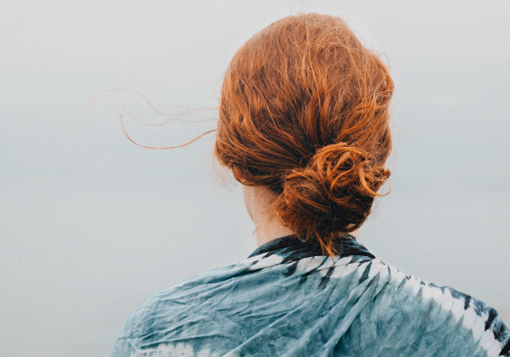 Recently, I decided that I wanted to get a really good tan. In order to do that (without having to sit in the sun all day), I decided to go to the tanner. Now, I am not recommending going to the tanner or sitting out in the sun all day because I know the sun's rays are harmful. Nor, am I saying that you need to be tan to be beautiful or have more worth or value. I am simply using this story to help make my point. 
Okay, moving right along.
Once entering the tanning room, I realized that the tanning bed looked like a coffin with clear walls. If you've ever been in one, you know what I'm talking about. Once I entered this coffin-like concoction, my mom turned the tanner on and closed the wall of the bed so I was surrounded on all sides.
It didn't take long for me to become uncomfortable with this unfamiliar experience.
I had a towel over my face to avoid tanning it, and my mom told me not to open my eyes (which makes sense since the rays were powerful). This experience was only supposed to last for 10 minutes…but it began to feel like forever. I frequently asked my mom how much time was left because I couldn't believe how slowly time was going by. I didn't realize how difficult it would be to keep my eyes closed for a simple 10 minutes either! However, I endured because I knew that the outcome on the other side of this uncomfortable experience would be worth it. 
As odd as this may sound, I had a spiritual revelation while inside this glass tanning bed.  
My tanning experience reminded me that time on this earth can seem like forever. Sometimes time even feels like it's standing still. We go through various trials, sufferings, and difficult seasons and our faith is tested. However, we know that enduring is worth it because we know how rewarding the result will be on the other side. We know that this earth is not our home (Hebrews 13:14). We know that our citizenship is in heaven, where every tear will be wiped away (Philippians 3:12). We know we will be rewarded for how we live this life on Earth, treasures that will last for eternity (Matthew 6:19-21).
We should count it all joy when we encounter any troubles, knowing that by enduring we are being made perfect and complete, lacking in nothing. We will be more mature on the other side of our endurance. We know that by enduring, we become more like Jesus.
As James 1:2-4 says, "Count it all joy, my brothers, when you meet trials of various kinds, for you know that the testing of your faith produces steadfastness. And let steadfastness have its full effect, that you may be perfect and complete, lacking in nothing." 
Perseverance involves choosing to do what is right, even when it is difficult.
The fact that my mom was with me in the tanning room, answering me when I called out to her, made the experience much better. 
Just like my mom's presence with me then, knowing that God is with you always, in every circumstance, is comforting. While on this earth, while we endure, God is with us and He is our present help in time of need. He is our strength, and He guides us and takes care of us. He will never leave us, forsake us, or abandon us. When we are clueless, we can turn to Him for our source of wisdom. We can trust Him from the bottom of our heart and not try to figure out everything on our own.
"If any of you lacks wisdom, let him ask God, who gives generously to all without reproach, and it will be given him. But let him ask in faith, with no doubting, for the one who doubts is like a wave of the sea that is driven and tossed by the wind. For that person must not suppose that he will receive anything from the Lord; he is a double-minded man, unstable in all his ways." James 1:5-8
Knowing God is with us gives us confidence and hope.
Overall, instead of being angry or upset about troubles that may come your way, understand that the troubles you face are giving you an opportunity to endure. You can have great joy knowing that by enduring, you are being made perfect and complete, lacking in nothing (James 1). You will become more mature in Christ and look more like Jesus. Your time here on Earth is nothing in comparison to eternity with Jesus in Heaven.
I suggest asking yourself these questions to point you in the right direction.
What current troubles in your life can you view in a different light?

What do you think it means to endure and persevere in your trials?
This guest post was written by: Sarah Chang