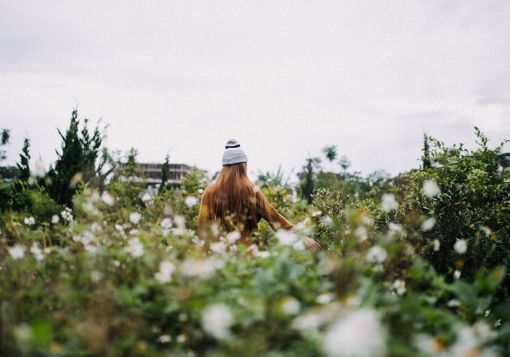 I'm in my early twenties with many friends in serious relationships, getting engaged and getting married. I've been to 5 weddings in the last 2 years.
In that space of time, I've been on a small handful of dates and tried to test the waters with a few guys. I may have lain in bed imagining our lives together after the night we met. I may have placed them on a pedestal, creating high expectations that they could never fill. I may even have been so desperate to persuade myself to try even though I felt no connection to them whatsoever.
In that space of time, I met a man I was convinced was the one.
I excitedly told all of my friends about him, proudly showing off pictures with his gorgeous, rugged and manly model-like features.
Ever heard of the right guy, wrong timing? That's what this guy wanted me to believe. I don't blame him; he had just gotten out of a 7-year relationship and hadn't yet let his wounds heal. I was convinced it was going to work because of the number of coincidences that seemed to fit together like a perfectly designed puzzle. I wanted to believe that was God.
I chose to ignore the subtle but obvious signs I should've regarded as red flags. I now know better.
I've come to realize that every single encounter with a possibility is a lesson.
Every man I meet gives me a better indication of what I want and what I don't. The first dates I have been on here and there have all given me something to think about.
I know now that it isn't worth wasting time on someone who doesn't show Godly qualities that shine bright like a lighthouse on a hill.
It isn't worth time, effort and emotions to pursue someone for a period of time when they don't immediately show husband potential. I obviously don't mean giving every guy the boot after two minutes of meeting them, but once you have gone from strangers to friends, it becomes possible to determine whether they have a genuine love for the Lord that is clear to everyone around them.
"A good man brings good things out of the good stored up in his heart, and an evil man brings evil things out of the evil stored up in his heart. For the mouth speaks what the heart is full of." Luke 6:45
Sometimes we are so distracted by the attention we receive from certain guys.
We may not necessarily even like them initially, but the fact that they take the time to pay attention to you, text you constantly and make you feel wanted, appreciated and loved is enough to send you tumbling down a rocky road of disaster.
This may not always be the case, but sometimes, just sometimes, the guy who lavishes you with overwhelming attention that you eventually fall for, is the one who is looking for the thrill of the chase.
Once he gets you hooked, he slowly fades, leaving you destitute and alone, missing the affection. The tables turn and you are the one doing the chasing, begging to know what caused the change in him. More often than not, he was already chasing the next girl during your fall.
Don't be the woman who allows her heart to be toyed with.
You are the daughter of the King. Start seeing yourself as the princess that you are, and don't settle for a man who treats you otherwise.
"Love is patient, love is kind. It does not envy, it does not boast, it is not proud. It does not dishonor others, it is not self-seeking, it is not easily angered, it keeps no record of wrongs. Love does not delight in evil but rejoices with the truth. It always protects, always trusts, always hopes, always perseveres." 1 Corinthians 13:4-7

Although it is much easier said than done to choose carefully who you fall in love with, there are biblical tell-tale signs of whether the relationship is really God-ordained, or just a passing mist.
Firstly, and this has been the topic of one-too-many debates, it is my conviction that it is the duty of a man of God to pursue the lady he has eyes for.
In many cases in the Bible, we are repeatedly told and shown that the man is the leader, provider, and protector. He is the head of the home and while this doesn't make him superior to his wife, he does have a higher authority as he acts as an umbrella under God over his family.
When a man is really serious about his walk with the Lord, he will be sure to earnestly pray about direction and discernment before making a decision to pursue you, which requires patience from both of you, respectively. A man with a heart for God will talk to his heavenly father about his feelings for you, while getting to know you as a friend with the hopes of developing a solid foundation for a future relationship.
HIS ACTIONS WILL SPEAK OF HIS LOVE FOR YOU, EVEN AFTER INFATUATION HAS PASSED.
Corinthians clearly shows us the characteristics of genuine, Christ-like love that we should be able to differentiate from lust or what someone wants us to believe is love.
I often look at the lives of friends around me and see myself as a total outcast, separated from everyone because my life path is so different to theirs. I have female friends who are regularly finding men to fall in love with all the time. I watch them go through relationship after relationship.
My initial thought is maybe I just don't get out enough to find men I'm attracted to.
Maybe there are tons of guys out there who would make my heart beat faster the moment our eyes meet. Maybe I'm just not trying hard enough to be open to love. But there's a maybe that I hadn't considered. Maybe God has made me this way, through past experiences that have taught me discernment. It's not that I'm wanting to go through boyfriends like dirty socks, but it's a wonder to me how girls are able to find so many men that they are attracted to and who match all of their 'datable criteria'.
I'VE BEEN TOLD THAT MY STANDARDS ARE TOO HIGH…THAT WANTING A MAN WHO IS A GENUINE CHRISTIAN WHO IS INVOLVED IN THE CHURCH AND SERVES THE LORD WITH HIS LIFE IS SIMPLY TOO MUCH TO ASK…IS IT?
I serve a God who created the very universe I walk and live on, is anything impossible for him?
He cares about every detail of my life, why should I settle for someone just for the sake of feeling loved when I can look to the master of my soul for the very thing I think that I lack.
The Bible says that all of our days were written in Gods book before they came to be, that he has plans to prosper and not to harm us, giving us a hope and a future. He knows our every desire and longing, but the real test is whether we put our trust and hope in him to provide for those needs and wishes.
That's exactly what I plan to do.
I have to make a decision to be content with my singleness while God has called me to it. It doesn't necessarily mean I won't still have those feelings and desires, but I can redirect them from focusing on me and my predicted happiness when I eventually get my fairy tale, to instead praying to my father who already knows what my future holds.
It doesn't benefit me at all to linger on what could have been or what might be or to go searching for my prince charming.
I refuse to settle for anything less than Gods best, and I encourage every other girl in the same situation to let go and give it all to Him who loves us more than anyone else can and ever will.
God is the author and Creator of love – in fact, God IS love, so who better to give my whole heart to until he decides to introduce me to the man he's hand-picked just for me.
What about you?
How are you doing in your singleness?
What are you doing well in and what are you struggling with?
Guest Blogger – Rebecca Lewis is a final year Communication Science student with a passion for writing. She was born and raised in a Christian home, and has always had a passion for God's word and the lost.  When she turned the tender age of four, her family moved to a mission field in a rural town in South Africa, which sparked her life-long passion to become a missionary. She intends to incorporate her God-given talent for writing, along with a passion for photography, to report on and gain awareness to the areas that need prayer, resources and Christ-like love the most.
Thank You @ A Lovely Calling for this blog. You can find the original here. 
PHOTO CREDIT