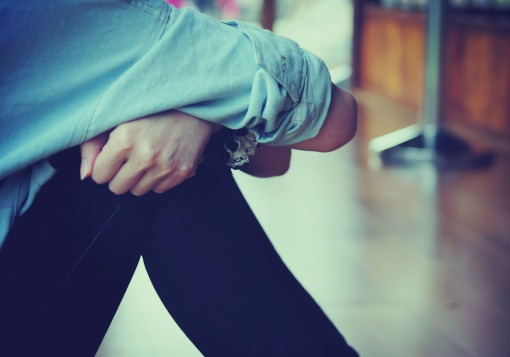 I held her little furry body in one hand as she licked my face. This tiny puppy had me at "ruh-roh."
She was so small and yet so full of life. I looked at my husband, Zack, and he knew I was sold.
"I guess this means we're taking the puppy." He said to the owner.
We exchanged money and paperwork and before I knew it I was holding a 1 lb., 8 week old Maltipoo puppy on my lap as we drove home. She was my early Christmas present.
"I just love her!" I said with a huge smile as her big black eyes looked into mine. "She is the cutest, most precious dog I have ever seen!"
I've always loved dogs, but have never owned one for myself. This was my very first puppy and the third member of our little family.
We named her Adelaide and called her Addie for short. We took her with us to my in-laws for Thanksgiving the next day and she stole the hearts of everyone who saw her. Things were going great and we loved this new edition to our family.
Then Saturday came.
Addie wasn't herself and began showing lots of signs of sickness. We immediately took her to the vet and he gave us some medicine for her and encouraged us to keep her hydrated. We brought her home again, but she wouldn't eat or drink anything.
She began declining so quickly that Zack and I decided to stay up all night to monitor her health and feed her water and electrolytes through a small syringe. We set our alarms to go off every 40 minutes all night long.
It was one of the longest nights of my life.
It ripped my heart out to watch this little puppy stumble across the newspaper as she tried to go to the bathroom. I could hardly bear to watch.
Around 3:45AM I was lying on the carpet in our living with Addie lying pitifully next to me on a towel. I was praying so hard that God would spare our little puppies life, and honestly, I really thought He would.
Then, without warning, she opened her mouth and breathed an unusually loud breath, then her body went limp.
"Addie!" I said frantically, shaking her little body to wake her up. Nothing. Zack came running over and shook her little body as well. She didn't move.
I instantly burst into tears as I watched my little puppy lay helpless and lifeless on our living room floor. Zack and I held each other on the couch and cried until the sun came up.
"Why did God let Addie die?!"
I questioned angrily to my husband. "She was so full of life! Why would He do this to us?! This is so unfair!"
For the first time in a very long time, I sensed anger in my heart towards God. I had become so attached to little Addie in just four days, that losing her felt like losing a long time family member. I couldn't understand why God would allow us the joy of having a sweet puppy, only to take her away so agonizingly.
Before I could say anything else, my husband quickly opened his Bible and began reading some much needed truth to my weary soul.
By the way, this happened just three days ago. My heart is still extremely sad, but my soul has found rest.
Have you ever had a moment like mine where you felt angry at God?
The sudden loss of my puppy revealed some things in my heart I had no idea were there. I surprised myself with my anger and began questioning whether or not it was wrong to be mad at God.
Deep down in my heart, I knew what the answer was, but decided to do some research.
Here's what I discovered:
1. We don't get angry at God until a tragedy or loss strikes.
Most people aren't angry at God if everything is going great in their life. Once things turn south, we tend to question God's goodness and get angry at Him for allowing it to happen.
That is the first flaw in our thinking. God never promises you or me a pain free, tragedy free life. In fact, He actually tells us the opposite will happen: John 16:33 says, "In the world you will have tribulation." And 1 Peter 4:12 says, "Beloved, do not be surprised at the fiery trial when it comes upon you to test you."
Ever since sin entered our world pain and suffering came with the package. If we think God owes us a wonderful life without trials and suffering, we're asking Him for a world without sin. Death, pain suffering, and loss are all a part of the fall.
The good news is that as Christians, God gives us a very hopeful promise: "And we know that in all things God works for the good of those who love him, who have been called according to his purpose" (Romans 8:28).
We can have confidence because, "Even though I walk through the valley of the shadow of death, I will fear no evil, for you are with me" (Psalm 23:4). God is with us every step of the way.
2. By getting angry at God, we question His sovereignty.
The word sovereign means that there is absolutely nothing that happens in the universe that is outside of God's influence and authority. He is the ultimate source of all power, authority, and everything that exists is under His control.
When we question God, we are basically saying that He doesn't know what He's doing. When we get angry at God for allowing a trial to happen in our lives, we are saying "I know better than you God."
We don't always know why God allows certain things to happen to us, but what we DO know is this: "Blessed is the man who remains steadfast under trial, for when he has stood the test he will receive the crown of life, which God has promised to those who love him" (James 1:12).
We're also commanded to count our sufferings as joy because they make us stronger and more solid Christians. James 1:2 says, "Count it all joy, my brothers, when you meet trials of various kinds, for you know that the testing of your faith produces steadfastness."
The bottom line is this: God is God and we are not.
He sees the BIG picture and all we see is a tiny spec through a microscope. God knows what's best for us even if it hurts. However, we can take comfort in the fact that God is always in control and will never allow something to happen to us outside of His will.
Those key truths helped me realize how wrong I was for being angry at God after my puppy died. My anger was completely out of line.
Yes, we will be sad and distraught at times during our life – but we will never be without hope.
We will face trials, but we won't ever face them alone.
Sin is the reason we feel pain on this earth. Thankfully, as believers we have the promise that one day "He will wipe every tear from their eyes. There will be no more death' or mourning or crying or pain, for the old order of things has passed away" (Revelation 21:4).
So to answer the question in the title of this blog, YES – it is very wrong to be angry at God. He is the only source of comfort and peace we have during our storms. Turning our backs on Him will shut out the only true peace and comfort we have.
If you're struggling with being angry at God right now, I encourage you to confess your sin to Him and ask Him to help you endure your trial. Ask Him to make you more like Jesus as a result of your suffering. Ask Him to use your painful experiences to comfort and help somebody else.
Remember God is our Father and He loves us more than anyone else in this entire world could love us.
He is on our side and will stick with us through the thick and thin.
Are you dealing with a trial right now? Do you find yourself getting angry at God?
How can you apply the truths in this blog to help you have a right mindset? Do you believe God is in control of your life and loves you?
I would love to hear from you! How has God helped you overcome hard times in your life? Share in the comment section below!
Photo credit: www.flickr.com | Mommmo