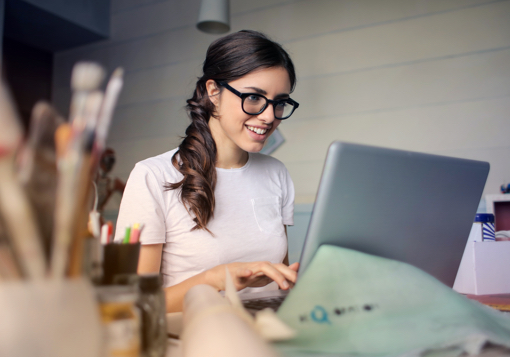 I stuffed over 400 envelopes yesterday. For seven hours, I folded letters, placed them in envelopes, and sealed them. At the end of my eight-hour shift, all I had to show for it was two boxes of filled envelopes. I felt slightly triumphant…but also incredibly disgusted.
While I'm thankful to have a summer internship, I can't help but feel a little insignificant. As I do my work—whether it's stuffing envelopes, creating spreadsheets, or labeling papers—I sometimes wonder if I'll ever do something important with my life. Will I ever get to achieve something valuable or attain true success in my career?
Or will I be stuck at a desk, doing filing and answering phones for the rest of my life?
Of course, I know what the truth is. We are commanded to do everything for God's glory (1 Corinthians 10:31). We are promised that any work we do for God is not ineffective (1 Corinthians 15:58).
So why does our work still feel mundane and insignificant sometimes?
Perhaps because we've been told that our job title is our identity.
In our conversations, we often emphasize careers—who's getting promoted, who's changing roles, or who's finding a new career path. In TV shows and movies, there is usually a focus on the job of the main character—whether it's a chef in Paris, a reporter in New York City, or a spy in London. On social media, pictures and posts often revolve around our jobs—an office party, a meal with coworkers, or a conference for company employees.
It feels like careers are discussed all the time by everyone. No wonder we feel so much pressure to have an important job! But who gets to decide which jobs are "important" and which jobs are "unimportant?"
Certainly, I want to have an exciting job someday. I want to publish magazine articles, write books for women, and work for a publishing company. I want to do something important.
But what if I'm already doing something important? What if you are, too?
After all, who decided that stapling papers, filing documents, and greeting customers isn't important? Who deemed that making sandwiches, stocking store shelves, and delivering meals isn't valuable? Who said that mowing lawns, washing windows, or scrubbing sinks isn't significant?
You don't need to be a wealthy doctor, an esteemed professor, a successful engineer, an innovative business owner, or a famous author to have value. The work you do does not make you who you are. Rather, you are valuable because you belong to the King of Kings.
Additionally, the way you do your work will reveal to you who you are.
Colossians 3:23 says, "Whatever you do, work heartily, as for the Lord and not for men…" (ESV). Paul didn't say that only doctors or government officials should work heartily. As believers, we are all commanded to work heartily. According to this page on Bible Gateway, "heartily" literally means "from the soul."
A key component of this kind of enthusiastic work is found in the last part of the verse: "…as for the Lord and not for men…" In other words, we don't have to please others by attaining a certain job title or a specific income. We simply need to please the Lord with our attitudes and actions—no matter what our job title is.
Do you have a job that might be seen as insignificant? What word can you substitute for "insignificant" in light of Colossians 3:23?
How can you please the Lord in your current job? What attitudes and actions can you implement that will point others to Him?
Author Bio: Grace M. is a college student, a blogger, and a writer. She enjoys spending time with her family, chatting with friends, and eating cookie dough. She writes about the Christian life at Tizzie's Tidbits.