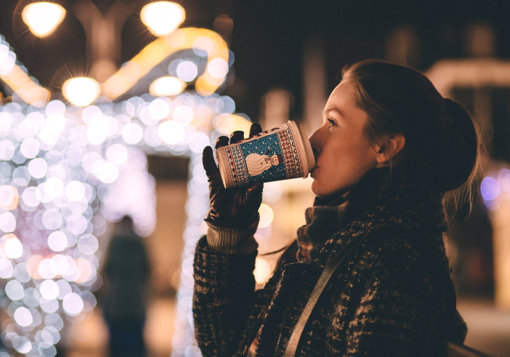 I don't know about you, but the Christmas season has a way of bringing out my best and worst. In the midst of a joyous party with family, I find myself consumed with self-centered thoughts. Rather than focusing on the true Reason for the season, I subtly begin to view myself as the reason for the season. Everything is about my happiness and joy. Can you relate?
While wish lists, Christmas parties, and traditions are all fine and fun, I am realizing this year (more than ever before) that my heart needs a focus shift.
My "wish list" needs a makeover.
Instead of focusing on my desires and my wishes and my traditions this season, I am striving to focus on a new wish list. On a wish list that isn't interesting in getting, but giving.
This unusual wish list is actually more of a "prayer list" and I am so excited to share it with you! If you're anything like me, you've probably failed a time or two at keeping your focus on Christ this season. If so, this unusual wish list is the perfect way to refocus your heart and mind.
Set your previous wish list aside, and let's explore 12 unusual Christmas wishes for every Christian girl:
Wish #1: Have a Genuinely Happy Attitude
It's so easy to get bent out of shape about silly things during Christmas time. Instead of allowing those disappointments to dictate your actions and attitudes, choose to have a joyful attitude. Choose to be grateful instead of upset, and joy will be a natural overflow.
Wish #2: Focus on Others
My party, my gifts, my friends, my traditions, my night out, my plans, my, my, my. It's so easy to get bogged down with self-centered thoughts during the Christmas season. We all know that there is no true joy in living to please ourselves. Instead of focusing on your desires this month, look for ways to bless, serve, and give to others.
Wish #3: Have a Giving Heart
Giving gifts isn't the only type of giving we should be doing this Christmas season. The true and genuine heart of a giver will be revealed by the way they give their time, energy, attention, interest, and service. Choose to be a generous giver.
Wish #4: Smile a Lot 
Nothing brightens a stranger's day faster than a joy-filled, big, happy smile. Gift the gift of smiling this Christmas season. Say hello to people. Ask questions. Smile when you talk. Smile when you greet someone. Smile to the mailman and grocery clerk. Allow the love of Christ to be seen through your smile.
Wish #5: Intentionally Love My Siblings 
If God has you in a family with siblings, one of the best gifts you can give them this year is the gift of love. As simple as this sounds, our family members are often the people we neglect the most. Take time to invest in your siblings. Play a game with them. Talk to them. Build traditions with them. Love your siblings well.
Wish #6: Serve My Parents
God has placed you in your family for a reason. Parents are usually very busy during the Christmas season and could really use your support and help. Give them the gift of serving them without being asked. Do the dishes on your own. Offer to cook dinner on a busy night. Run errands for them (if you can drive).
Wish #7: Choose to be Easy-Going
Flexibility is usually my downfall during the Christmas season! My prayer this year is that I would be flexible and easy-going when it comes to plans. When things don't go your way, or the plans are suddenly changed to a less desirable option, choose to be flexible.
Wish #8: Give Secret Gifts 
One of my favorite Christmas traditions in my family is to give little secret gifts to people throughout the month of December. You buy something small (e.g. nail polish, a cookie, a candle, etc), then you wrap it in a brown paper bag, write their name on the front, and leave somewhere secret where they'll stumble across it later in the day. It always brings so much excitement and joy to everyone who gets a secret gift. It also helps to keep my heart and actions focused on loving others.
Wish #9: Value People More Than Traditions
Traditions are fun, but they're not nearly as important as the relationships. Strive to make your family feel more important to you than your Christmas traditions. Make fun memories while loving them. Show them that you value and care for them more than any tradition.
Wits #1o: Bless My Neighbors
I decided to make all of my neighbors some caramel and chocolate-covered apples this year. I packaged them up and will write a sweet card to go with it. God has placed you where you are for a reason. Show the love of Christ to your neighbors this Christmas.
Wish #11: Pray for My [Future] Husband
I know this seems like a totally random thing to mention, but it's really not. I've talked to many single girls who say they feel extra lonely at Christmas time because they're not married or in a relationship. The love songs and romance of the season tempts them to be discontent. Instead of becoming sad or discontent, pray for your future husband! If God has a man out there for you, He is alive this Christmas season and might be feeling "alone" too. Give him the gift of prayer. And if you're already married, pour your heart out in prayer for your husband.
Wish #12: Celebrate Jesus!
While this should go without saying, it still needs to be said. Celebrate Jesus this month! Take time to read and ponder the Christmas story (Luke is a great book). Listen to amazing podcasts about the Christmas story, like this one. Learn about Jesus and celebrate Him! He is the reason we have hope on this earth.
This wish list isn't your ordinary wish list.
This list is designed to get your focus off yourself and onto others. It's a list to help you remember what Christmas is all about  Jesus. This list of prayers is for my heart this Christmas season and I pray it will be for yours too.
Let's chat about it now.
In what ways have you been tempted to be self-focused this Christmas season?
Out of the 12 wishes, which one can you put into practice today?
If you've been blessed and encouraged by Kristen and Bethany at Girl Defined Ministries, would you consider giving a year-end donation? Our year-end ministry need is $30,000. To contribute, please click here.