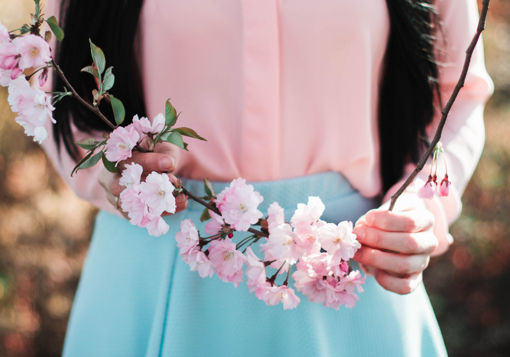 I recently wrote a post called, The Birth Control Pill: What Every Christian Girl Needs to Know. As a Christian woman myself, my heart behind that post was to remind all of us that God's plan for sex, marriage, and motherhood is much better than what our culture has been feeding us.
I'd love to continue our previous conversation about the Pill and share more of my heart behind writing that post. Just consider this post Part 2.
For the women who commented previously who take the Pill strictly for health issues, my heart goes out to you. I am genuinely sorry that you have to suffer from things like PCOS, severe PMS, intense acne, and other painful things.
My goal in my previous post wasn't to minimize your pain, but to show you the history of the Pill, and encourage you to consider the serious long-term potential effects that the Pill may have on your body (if it hasn't already).
Whether you choose to continue taking the Pill or not, I pray you will find lasting healing from your suffering.
May God give you the grace and power to joyfully honor Him through your trial.
Now – just to clarify – I don't believe that the Pill is our true enemy…I believe the great Deceiver (Satan) is. I believe the Pill is simply a tool Satan has used to wreak havoc on many lives by offering women "freedom" from God's design for sex, marriage, and motherhood (John 10:10).
The Pill isn't truly the underlying issue here. The real problem is that we, as a society, have rebelled against God's design. If our hearts don't align with God's heart, we have missed the mark.  
Sadly, the results of straying from God's good and loving design for sex, marriage and motherhood have been devastating to us as women. God cares for women and loves us deeply. He created us, along with the man, to be His crowning creation (Gen. 2). We are created in the image of God Himself and He says that each one of us is fearfully and wonderfully made (Psalm 139:13-14).
God loves us and created sex, marriage, and motherhood to be beautiful reflections of His character and love.
The more we understand God's heart and desire for us in these areas, the more we will experience peace, freedom and fulfillment as women. God loves us and wants us to experience His best. We just have to make the choice on whether or not we will obey God's truth.
GOD'S HEART FOR SEX.
Sex is a beautiful gift from God! Sexual intimacy was and is God's idea. Genesis 2:24 says, "Therefore a man shall leave his father and his mother and hold fast to his wife, and they shall become one flesh."
God created sex to be greatly enjoyed within the right context – marriage (just read the Song of Solomon!). The benefits of sexual intimacy are countless… long-term bonding, marital pleasure, the blessing of children, glorifying God, reflecting God's passionate love for His Church, and more.
Sex is one of the most beautiful and shameless acts when enjoyed within its God ordained context.
However, when we rebel against God's good design, we will reap unwanted consequences (Std's, adultery, unwanted pregnancy, broken hearts, etc.). God uses these consequences to drive us back to Himself because He loves us.
GOD'S HEART FOR MARRIAGE.
Our God is a God of deep relationships. After He created Adam in Genesis 2, he said, "It is not good that the man should be alone; I will make him a helper fit for him" (Genesis 2:18). God created Eve to be the perfect companion for Adam. One man and one woman is God's perfect recipe for marriage. God created marriage for intimate fellowship, companionship, mutual help, comfort, sexual intimacy, procreation, and to put the mystery of the Gospel on display.
I love the way the way marriage is described below,
"Marriage is a beautiful picture of the relationship between Christ and His church. The body of believers that make up the Church are collectively called bride of Christ. As Bridegroom, Jesus gave His life for His bride, 'to make her holy, cleansing her by the washing with water through the word' (Ephesians 5:25–26), and His selfless act provides an example for all husbands. At the second coming of Christ, the church will be united with the Bridegroom, the official 'wedding ceremony' will take place, and with it the eternal union of Christ and His bride will be actualized (Revelation 19:7–9; 21:1–2)."
Over the years, God has built great Nations on the foundation of strong marriages and families and continue to do so for any Nation willing to honor and obey Him.
GOD'S HEART FOR CHILDREN.
One of the topics Zack and I discussed early on in our relationship (prior to marriage), was the topic of kids. Before making any hasty decisions of our own, we decided to do some intense Bible research to find out what God thought about children.
We quickly learned one thing: God's LOVES children. God doesn't view children as a take-it-or-leave-it accessory to a family, but rather a mighty blessing and heritage for every family who receives them. While the average American family wants no more than 2 children (maximum), God says, "Blessed is the man whose quiver is full of them."
Psalm 127:3-5 says, "Children are a heritage from the LORD, offspring a reward from him. Like arrows in the hands of a warrior are children born in one's youth. Blessed is the man whose quiver is full of them."
God loves children and calls them gifts, therefore we should too. As Christ welcomed the little children to come to Him with open arms (Matthew 18:2-6), may we welcome children into our families as great blessings – not burdens.
Regardless of where the current of modern culture flows, may we, as Christian women, stand firm on the foundation of God's unchanging Word.
Whether we're discussing the birth control pill, the latest movies, the most popular songs, or the latest trends, may we carefully and humbly evaluate whether or not they align with God's truth. And if something doesn't align with God's heart, may we change ours to align with His.
May we embrace God's good plan for marriage, sex, and children and show a lost and broken world the beauty and restoration that can only be found in a loving relationship with Jesus Christ.