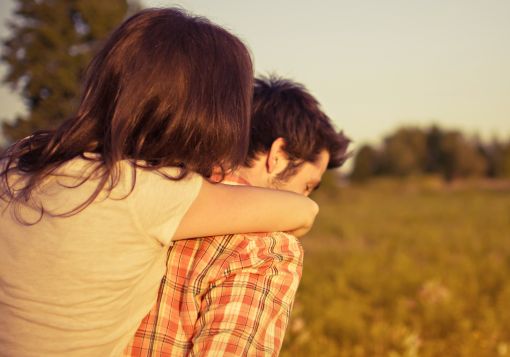 He said he loved her. He asked her to move in with him. She liked him a lot. She decided to give it a try. One sunny afternoon, she loaded up her apartment and moved all of her stuff into her boyfriend's place.
They ate breakfast together. They ate dinner together. She did his laundry. She slept in his bedroom. She shared his bathroom.
From the outside, they looked like a cute married couple.
However, despite how "married" they looked, they were missing one key ingredient.
Vows.
Neither was committed long-term. Neither was in a covenant with the other. Neither was 100% loyal to the other. Neither felt obliged to invest deeply in the relationship. Neither felt exclusively bound to the other sexually.
She was his girlfriend. He was her boyfriend. They were "playing" marriage. That was it.
Living together, cohabitating, shacking up…whatever you want to call it, is a popular trend in America today. Girls are giving all of themselves to guys who aren't even willing to pop the question.
Sadly, after playing marriage for a while, many of these girls complain about how immature guys are and how unwilling they are to commit.
Well…if you got every privilege of a married person but didn't have to commit, would you??
Listen girls—we can't have our cake and eat it too.
God created marriage to be a sacred covenant where secrets are shared, deep bonds are formed, emotional ties are created, body's unite, and commitment is mutually agreed upon.
When you bypass God's plan for marriage, and instead give your boyfriend those sacred privileges, you're unknowingly forfeiting God's best for you both.
And before you think you're off the hook, this topic doesn't only apply to unmarried couples living together.
It applies to young women, just like you, who do everything from flirting with guys, to making out with your boyfriend, to pouring your heart and soul out to your crush.
Instead of saving these precious gifts for your husband, you get impatient and use your guy friends, crushes, or boyfriend as a short term "husband filler" until you get married.
Husband privileges:
Your body is for your husband's pleasure alone.
Your kisses and sensual touches should be saved for your husband alone (more on that here).
Sensual selfies should only be taken for your husband's viewing.
Seductive clothing should only be worn for your husband's eyes to see.
Your flirty words and actions should be saved to spice up your future marriage.
Your deepest emotional thoughts and struggles aren't for just any guy, but for your husband.
Whenever you give these special privileges to just any guy, you give little pieces of yourself away (emotionally and physically) to someone you have no business giving them to. They aren't his to take. And sadly, many of the guys you do this with have no intention of ever putting a ring on your finger.
A boyfriend may say he loves you, but until he asks you to spend the rest of your life with him (and then makes vows together at the altar), you are not his. He is not yours.
I don't care how committed and unwavering your boyfriend's promises of love are to you, until you are his wife, he doesn't get husband privileges.
If you want God's best for your future marriage, don't play marriage with your boyfriend. Despite how "free" and progressive our culture is becoming, we as Christian girls, have to live according to God's created order.
And guess what? This is for our own good and protection.
God created marriage to be that special place where all of your emotions, feelings, thoughts, physical longings, and sexual desires can be freely unleashed and poured out within a safe, committed environment. It's pure. It's holy. It's God honoring.
You're committed. He's committed. He loved you enough to ask you to spend the rest of His life with him. You loved him enough to say yes.
Don't make the same mistake that millions of girls are making today.
Don't give your boyfriend things that are intended for your future husband alone. Be patient. Be pure. Trust God. Do things His way.
Don't bypass God's best. Your future husband is worth the wait. He deserves all of you. And in the end, your future husband is the only man who will stand at the altar with you and commit to love you for the rest of your life.
There's a lot more I wanted to address on this topic, but just don't have the room.
For some deeper reading, I highly recommend the following Girl Defined posts:
5 Signs You're Not Ready for Marriage Yet
How Setting Up Boundaries Saved My Virginity
Lost Virginity: Practical Help to Reclaim Your Future
Okay, let's chat about this post! I really want to hear from you.
In what ways do you see single girls giving guys "husband privileges" today?
What problems can come from becoming too emotionally and physically close to a guy who isn't your husband?
What are some practical things you do to guard your heart as a single girl?
Photo credit: Here