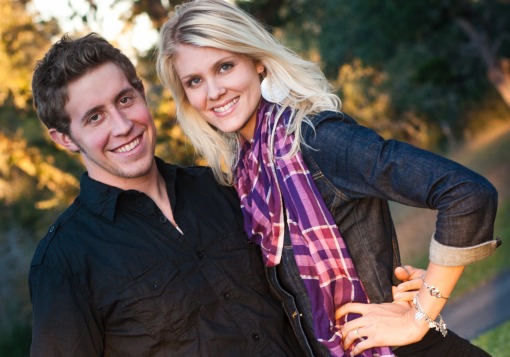 It was a warm afternoon in May of the year 2006 when I laid eyes on Zack Clark for the very first time.
Being a rather tall girl myself, I had a special eye open for any guy that exceeded me in height. My family was attending a Christian family conference near Dallas, Texas. Little did I know that this is where I would see my future husband for the very first time.
I remember the exact moment when I noticed him.
He was sitting about ten rows in front of me with his family as we all listened to one of the conference speakers. I immediately noticed his height and how handsome he was (of course). I wondered who this guy was. I knew he had to be somewhat of a decent person because he was at a great conference with his family.
The day I met Zack. 
After the closing ceremonies were over on Saturday night, a group of us young people went outside to play ultimate frisbee. Several minutes later I saw Zack walking up with a few of his buddies!
My heart leaped.
He joined in the game and we all played together. As we finished playing our last game, I noticed that Zack was making his way over to where I was! He introduced himself as Zack Clark and asked me if I was involved in the San Antonio homeschool organization.
I was surprised by his question and said yes.
It turned out that he only lived thirty minutes away from me and played football for the very same homeschool organization! I was leaping for joy inside. We parted ways with the anticipation of seeing each other again soon.
There was something about Zack that caused me to be deeply attracted to him. I had never developed a crush on any guy as fast as I did him.
That following Thanksgiving I remember telling my sister that I knew who my future husband was. I wouldn't tell her who it was, but in my heart I just knew there was something extremely special about Zack.
I knew Zack liked me, but I hardly saw the guy. 
Over the next few years I saw Zack every now and then at our homeschool campus, at birthday parties, and conferences. We became casual friends and would have small conversations here and there, but didn't hang out on a regular basis.
I sensed that Zack had a definite eye for me, but wondered why he didn't pursue me. He is a year and a half younger than me, so I figured that had something to do with it. I also noticed that his dad was very involved in his life and I wondered if he didn't like me for some reason.
Was his dad discouraging Zack from pursuing me?
I didn't know what was going on.
Our relationship remained the same for three entire years. Zack's actions confused more than ever! I even asked him several times why we couldn't "hang out" more. He dropped small hints saying that he really wanted to hang out with me, but couldn't just yet. I had no idea what that meant.
It was now the summer of 2009. Zack played sand volleyball with a group of mutual friends every Thursday night. I was invited to play volleyball with them by a different friend and was overjoyed when I heard that Zack would be there!
I began playing with them every Thursday night and would see Zack on a weekly basis. We immediately hit it off and had so much fun hanging out. It was obvious to me, and everybody else, that Zack liked me; but I still wondered why he wasn't speaking up about it.
All hope seemed lost. 
After several months I became really annoyed at him and was about to give up hope. Then it happened. It was September 15th when my dad gave me a call and told me the news.
Zack had finally spoken up and was interested in "officially" getting to know me! I was shocked! The timing was finally right. I learned later that the hold-up was school. Zack was getting closer to graduating college and therefore could pursue a woman with the intent of marriage.
That's why he was taking so long. I learned later that Zack had liked me since the day he met me – for three years! But he was advised to wait on pursuing me until college was closer to completion.
Zack and I began intentionally hanging out in groups for the very first time.
Our families began spending time together and everyone hit it off right away. Zack asked my dad permission to officially court me on January 31, 2010. Our focus changed from simply "being friends" to seeing if marriage was God's plan for us.
It's official. We're official! 
The following nine months were spent with a serious focus on getting to know what our goals, spiritual beliefs, convictions, desires and differences were. We, along with our families, prayed fervently that God would reveal His will to us.
Zack and I made commitments to purity during our courtship and both agreed to save our very first kiss for the day of our wedding – whether it was with each other, or someone else.
God challenged us, grew us, and opened our eyes to our own weaknesses during those nine months. Zack and I purposed to keep our focus on Christ and allowed Him to draw us closer together.
Looking back. 
As I look back over the past four years, I can see how God's hand was working in a mighty way as he kept Zack and I both pure for each other. We serve a mighty and awesome God who orchestrates everything about our lives.
Zack and I praise Him every day for His unfailing love and kindness towards us!
To read Part 2 (the engagement!) click here: Kristen's Love Story – Part 2.