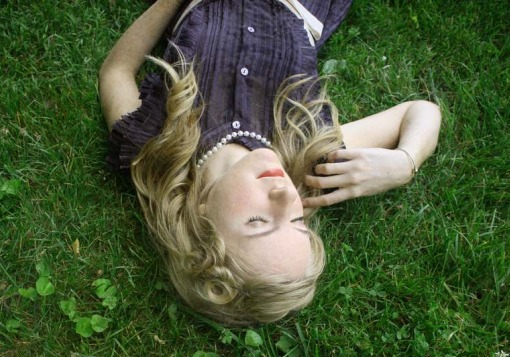 I walked down the long aisle in my beautiful silk dress. My heart pounded with excitement as I locked eyes with my handsome husband-to-be. He beamed from ear to ear as I slowly approached him.
This was the day, the moment we had been anticipating for the past eight months.
We were both raised in Christian homes and were taught from a young age that saving sex for marriage was the Biblical and right thing to do. The anticipation of giving the gift of virginity to one another was overwhelmingly exciting.
There we stood on our wedding day – both virgins and looking as pure and as perfect as can be.
As perfect as we both looked that day…we knew we weren't as pure on the inside. Yes, we had both saved our bodies for one another, but over the years we had both fallen prey to many impure thoughts and sexual temptations in our minds.
Like me, so many Christian girls strive to save their virginity for their future husbands, but very few are as passionate about saving their "minds" for their husbands as well.
Being a virgin with your body is encouraged in every Bible believing church, but what about being a virgin with your mind too?
Are you a mind-virgin?
The problem I had and that so many single Christian girls have today is that they're saving their bodies for marriage, but aren't saving their minds.They approach their wedding day as a physical virgin, but aren't anything close to a virgin in their personal thought life.
Lust is not just a guy problem.
A lot of Christians think "lust" is just a guy problem…but I'm here to say it's just as much of a girls problem. I've read story after story of Christian single girls who became enslaved to a certain lustful sexual sin.
A lot of their lustful habits started out as innocently as browsing a Facebook page, accidentally stumbling across a bad website, reading a Christian romance novel, or wandering into an Abercrombie store.
One little thought, one little image, one little linger of the imagination slowly became an enslaving lustful habit for these girls.
Girls are struggling at a shockingly high rate with lust.
We need to wake up and open up about this major problem.
"The internet filter review from ChristianityToday.com documents 70 percent of women keep their cyber activities secret. But, 1 of 3 visitors to all adult websites are women." -Jonalyn Fincher
That means 7 out of 10 of you reading this blog right now keep your cyber activities a secret.
Keeping something a secret is usually done because you don't want anyone else to know what you're doing. Right? Sure, you might be saving your virginity for your wedding night, but what are you secretly doing in your mind?
I heard a great illustration in church last week about how every person is like a house.
We keep our front rooms looking clean and pretty for when the guests come over. We might even keep the kitchen clean and the bathrooms shiny. We want everyone to think our house is beautiful and free of dirt.
What our guests don't see are the bedrooms way in the back.
We keep those doors closed tight and don't allow anyone in. Those rooms are full of dust, disorganized and are really dirty. We put on a good front, but keep our dirt behind closed doors.
Isn't that so true when it comes to mental purity? We look so good on the outside! We're pros at putting on the church smile and dressing nicely. In fact, we might even try to dress modestly and do godly things like saving sex for marriage; but our houses are dirty and rotten on the inside.
Our hearts are filled with secret lust and impure thoughts.
Sadly, no matter how good you look on the outside, God sees exactly what's going on in your private life. God sees exactly what you're thinking every moment of every day.
"Man looks on the outward appearance, but the LORD looks on the heart" (1 Samuel 16:7b).
As a Christian girl, I want to challenge you right now to not only save your physically virginity for your future husband, but to also save your mind-virginity as well.
I want to challenge and encourage you to fight against your lustful flesh and to live a sexually pure life on the outside and on inside.
Honoring God sexually is so much more than being a virgin.
It's being a mind-virgin too. Holiness and purity start inside with the heart and mind.
How to win the battle against lust.
When Jesus met the woman at the well in John chapter 4, she was in the middle of struggling with some serious sexual sin of her own. She was shocked when Jesus knew about her dirty back rooms.
She had bounced in and out of five different marriages and was currently living with her boyfriend. She was seeking sexual pleasure, security and fulfilment in all of these different men, but nothing satisfied her.
She was dying of thirst and was looking for water in all of the wrong places.
She was thirsty and was never satisfied. That's exactly how lust works. It promises satisfaction and fulfillment, but always leaves you thirsty for more.
In addressing her sexual sin Jesus said to her, "Everyone who drinks of this water [sexual sin] will be thirsty again, but whoever drinks of the water that I will give him will never be thirsty again" (John 4:13-14).
The only way to find freedom from lustful sin is to stop drinking the rotten water and start drinking the Water of Life.
First, you have to expose those dirty rooms in your house by confessing your sins to God and asking for His forgiveness.
Next, stop doing whatever it is that is feeding your lust. If it's a certain Facebook page, romance novel, website, store, music group, etc. – get rid of it. Let me say that again – get RID of it.
The easiest way to give into temptation is by making easy provisions for your flesh. Build walls of protection and accountability around yourself to avoid falling into the same traps.
Last, drink from the Living Water every day.
This means opening up your Bible and spending a good chunk of time reading God's word. This means spending a good chunk of time praying and asking God for strength every day.
The more you invest in your relationship with Jesus, the more you love Him and the less you will love the sin of this world.
Freedom starts today.
Will you choose to be a virgin with your body and your mind?
Are you struggling with secret lustful sins right now? If so, my prayer is that you will take this blog post as a sign that it's time to confess those sins and to live a pure life.
What water are you drinking from each day? The dirty water of our world or the Living Water of Jesus?
For more help on this topic, check out this book: Sex is Not the Problem, Lust is.
If you have already given away your physical virginity, all hope is not lost! Read this blog post: Lost Virginity: Practical Help to Reclaim Your Future
Photo credit: www.flickr.com | Shanon Wise