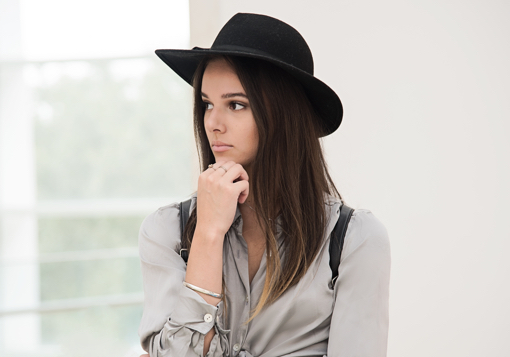 I couldn't fall asleep. My heart was heavy and my mind was spinning with one thought – my imperfections. The day hadn't gone very well. I thought of all the people who seemed better than me and I was overwhelmed by emotions.
Eventually, I fell asleep. But mere sleep cannot remedy a struggle.
Our culture today has a very loud voice and it wastes no time in telling us what they think we should be. In grocery store checkout lines and on billboard advertisements we see what the world claims to be "perfection."
Not to mention, friends, family members, peers and even people in the church throw expectations upon our shoulders as well. "You need to be this smart." "You need to be this pretty." "You need to be this talented." "You need to be this popular."
We even put expectations on ourselves.
We secretly think things like, "If I only did 'this' then I would be a good enough person."
But what happens when we fall short of all those expectations?
What happens is this: You end up not being able to fall asleep. You end up walking around with a heavy heart and constantly comparing yourself to others. It's a distressing state of affairs. I know, because I have been there.
That night when I couldn't fall asleep, I was afraid. I was imperfect and unfinished and that caused me so much heartache and fear.
Contrary to my (or your) tumultuous feelings, there is great hope found in the Word of God. Philippians 1:6 says, "And I am sure of this, that he who began a good work in you will bring it to completion at the day of Jesus Christ."
Once I grasped this truth, I had so much more hope.
However, just weeks later I was sitting at our family's dining room table in tears…again.
I understood that it was okay to be imperfect but the voices of people's expectations were still so loud. I felt like I needed to accomplish all these different things to be a "perfect Christian." Yet, no matter how many of these things I checked off I was still just as imperfect as before.
I may have been doing all the right things but my heart was not right. Deep down I wanted people to praise me. I wanted everyone to like me. For once, I just wanted to sit around and talk about guys with my girl-friends.
I was weary from trying to meet please everyone and I would rather just feel free and satisfied even if it meant doing things I knew were wrong.
Have you ever felt that way? I felt imperfect (and I was) but the answer was not trying to live up to expectations of people nor was it swinging the pendulum and forgetting the truth.
Matthew 23:26 says, "You blind Pharisee! First clean the inside of the cup and the plate, that the outside also may be clean." I needed the inside of my heart (my "cup") to be clean.
I wanted to feel free and satisfied but I would never find it in the futility of the world. John 8:32 says, "And you will know the truth, and the truth will set you free." The truth is we don't have to follow the many expectations people have for us.
The only expectation that matters is the expectation God has for us.
At the end of Mark chapter 12 a scribe asks Jesus what the greatest commandment (or in other words, the greatest expectation) is.
Jesus proclaims in Mark 12:29-31, "Jesus answered, 'The most important is, 'Hear, O Israel: The Lord our God, the Lord is one. And you shall love the Lord your God with all your heart and with all your soul and with all your mind and with all your strength.' The second is this: 'You shall love your neighbor as yourself.' There is no other commandment greater than these."
The opinions of others have a very loud voice in our culture but the voice of God must become louder.
We don't need to worry about our imperfections because God promises to bring the good work He began in us to completion. He will do it, not us. As Bethany wrote in a previous post, we don't need to follow a checklist to make us feel better because they will only make us weary.
The truth is what will set us free. Living for God's glory and not the praises of man is what we're called to do.
The only expectation we need to care about is what God expects of us.
No more. No less. And He is looking for a pure heart that loves Him above all else.
Let's continue the conversation below. What do you think?
What imperfections keep you up at night?
Do you ever have a desire to "go along with the crowd?" Why?
Why does God want you to have a clean heart rather than just a "rule-following" heart?
This guest post was written by Hannah Johanson.