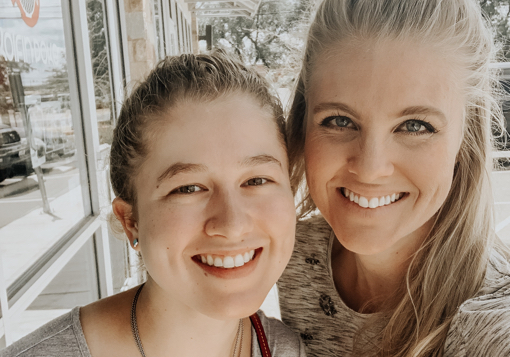 I met up with my sweet friend, Rebecca (cute girl in the photo), yesterday who is about to move away for college. She's 19 years old and just finished her freshman year at a local university. She's planning to transfer to a different university this year which will take her away from her hometown, family, friends, and church. We got together to chat about her life and this new (big) transition that's about to hit.
We talked about church, friends, roommates, romance, campus life, how to stay plugged into the Word, and a lot of other things. As we chatted, I was honestly really impressed with Rebecca's spiritual vision and goals for college. She had already thought through a lot of things and had specific ideas on how she could be intentional in her relationship with God.
For many Christian college girls, the transition from home life to college life can be a tough one.
Whether it's Christian university or not, many of the same temptations plague both campuses. In Rebecca's case, she will be attending a secular university and is choosing to stay on campus in the dorms this year. She is well aware of the temptations and pitfalls that await her. As we talked, it became clear that she had already thought through a lot of things and was ready to do whatever it took to stay the course in her faith.
Her ideas were practical, biblical, and wise, so I thought you would find them helpful too.  This advice is coming from real-life decisions that Rebecca is planning to intentionally put into action once she arrives on campus in a few days. I think you'll find her wisdom helpful.
1. Get Plugged Into Gospel-Centered Church Right Away 
Even before our conversation, Rebecca had already been researching and contacting local, gospel-centered churches near her campus. She wants more than a Sunday "church experience." She wants to get plugged into a local Body where she can grow, serve, stay accountable, learn, and be mentored in. She is committed to finding a church that prioritizes more than fun and fellowship. She knows how important it is to stay plugged into a solid church family while she is away. This is a non-negotiable for her, and I pray it will be for you as well.
For help on finding a gospel-centered church near your campus, check out these great resources:
Gospel Coalition Church Directory
2. Connect with a Godly Woman and Chat on a Regular Basis 
Whether it's your mom, a godly woman from your hometown, or a godly woman you meet in your new church, stay connected with this woman on a regular basis. Having a godly mentor in your life who knows you personally is so important. Rebecca shared with me how important this was to her and is planning to set up weekly calls with her mom. She is also planning to schedule monthly calls with me (I have been mentoring her in person up until now) to stay connected. Rebecca knows how important godly input, wisdom, and accountability is in her life. Especially in this new season where she won't be surrounded by Christian influences anymore. If you don't have a godly woman like this in your life, start praying for one. Start looking for one.
If you need help on knowing how to find a godly mentor, I really encourage you to check out this post that I wrote earlier this year:
How I Found a Godly Woman to Mentor Me
3. Stay Plugged into the Word Every Day 
Staying grounded in the Word and in your relationship with God is the most important thing you can do while away at college. Rebecca knows this too. As we chatted, I asked her how she plans to stay plugged into the Word on a daily basis. She said, "I just have to make it a priority. I have to remind myself that I'm not going to miss a class or fail a test because I spent time in the Word." She went on to share how she plans to get up each morning and spend time reading her Bible and praying before she gets going for the day. As you head off to college, I can't encourage you enough to do the same. For some helpful tips on how to have a quite time, check out these posts:
What We Do For Our Personal Bible Time
5 Simple Ways to Study Your Bible Each Day
Standing strong in your faith during the college years is completely possible. 
It's just going to take some serious intentionality on your part. Don't get lazy in your pursuit of the Lord. Don't neglect accountability and godly input. My prayer for you is that Psalm 19:7-11 would become the beacon of truth that constantly guides your heart toward the Lord.
"The law of the Lord is perfect, reviving the soul; the testimony of the Lord is sure, making wise the simple; the precepts of the Lord are right, rejoicing the heart; the commandment of the Lord is pure, enlightening the eyes; the fear of the Lord is clean, enduring forever; the rules of the Lord are true, and righteous altogether. More to be desired are they than gold, even much fine gold; sweeter also than honey and drippings of the honeycomb. Moreover, by them is your servant warned; in keeping them there is great reward."
For some additional helpful resources, check out these posts:
8 Ways to Stand Strong Through the College Years
How to Stand Strong Through the College Years
I'd love to hear from you below! 
Based on my conversation with Rebecca, which of the 3 things mentioned do you need to apply?
What would you add to my list?