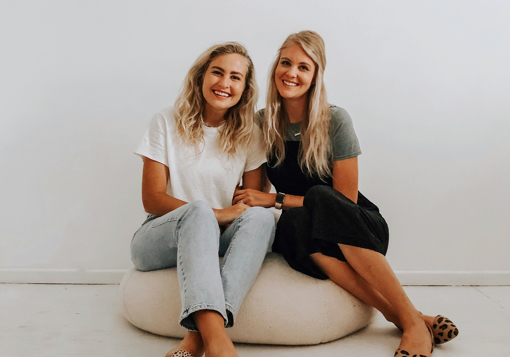 As most of you know, I'm the second oldest of eight kids and I grew up in a really big family. With five girls and three boys (and most of us being taller than 6 feet), we're quite the sight walking into a restaurant together. I have honestly loved being a part of such a large and fun family over the years. However, being the oldest of all the girls, I've always felt the weight and responsibility of being a good influence on my younger sisters. I knew they were watching me. I knew they were learning things (whether good or bad) from the personal choices that I made. 
This reality didn't weight as heavy on my heart until I hit my early twenties.
I was attending a conference with my entire family and I heard a message about mentorship that radically changed my perspective.
The speaker talked about the importance of older siblings taking their role seriously in a family by being intentional to disciple their younger siblings. He talked about the impact that an older sibling could have on a younger sibling by simply pursuing a loving relationship with them. He challenged older siblings to ditch the worldly mindset that younger siblings are just "pests" and "annoying kids," and to instead embrace a mindset of care and genuine love for them. 
He challenged older siblings to become godly mentors toward their younger siblings. 
My mind was blown.
Up until this point, I thought I was doing a great job of being there for my siblings. But I really wasn't. I was living side by side with them…but that was about it. I wasn't reaching out to them. I was intentionally pursuing a deep relationship with them. I wasn't getting to know them on a heart level. I wasn't genuinely concerned about their walk with God. 
This eye-opening reality was convicting to me, to say the least. I left that conference feeling ashamed that I had done so little, but also fired up about making some much-needed changes. Over the next few weeks, my mindset and actions toward my siblings took a 180 turn. But before I even had a chance to pursue anything more intentionally, one of my sisters, Ellissa, (who's six years younger) approached me asked a question that shocked me. 
"Will you be my mentor?" She asked one morning. 
"What?" I asked back in surprise. 
"Would you become my mentor?" She asked again. "There are some specific areas of my life that I really want to grow in…and…I think having a mentor would really help me with that."
I was excited and a little nervous all at the same time. I had never really mentored a girl one-on-one before. I wasn't exactly sure what it would look like. I wasn't sure how to do it, but I knew we would figure it out. 
"I would love to!" I responded excitedly. 
That day marked the beginning of my journey into mentorship.
Ellissa and I met on a weekly basis at a nearby coffee shop and talked about everything from current life happenings, to specific struggles, to accountability stuff, to Scripture memory, to studying the Bible together, and more. After each meeting, I would assign her a few "homework" items so she could work on some things during the week. 
Well, the weeks turned into months and the months turned into years. As time went on, I was amazed at how God was growing both Ellissa and me through our mentorship relationship. We could both see, firsthand, the value and importance of mentorship. Titus 2 (which talks about older women mentoring younger women) was no longer just a nice Bible passage to read, it was coming to life right before our eyes! We got to experience and witness the benefits of God's good plan for discipleship and mentorship in our own lives. 
After the first few years, Ellissa had grown so much that she even become a mentor herself by meeting with a younger girl every week. This was something that would have scared her to death just a few years prior. But God had grown and changed her. She was a different woman now. I also started mentoring a few more girls as well as finding a mentor for myself!
Godly mentorship was changing many lives. 
Now fast forward to today. Just this past week, Ellissa and I met up again for one of our regular mentorship meetings. But this time, it was extra special. We officially celebrated five years of mentorship together. Five years! 
We reminisced about the past five years and couldn't believe how fast time has flown. I looked back at some of our earliest mentorship notes and shared with Ellissa the ways that I've seen God grow and change her. She is serving God in ways now that would have seemed impossible to her when we started. She mentors younger women, leads Bible studies, speaks in front of people, teaches online courses, loves God more deeply, loves studying the Bible, isn't afraid of social settings anymore, memorizes God's Word regularly, cares about her younger siblings, goes on mission trips to China, and much more.   
God has used mentorship to radically change her life for His glory. 
I have simply been the tool that God has used to do the real work in her life. If there's anything I've learned over these past five years it's this: Having a front row seat into Ellissa's life has affirmed and re-affirmed the value and importance of godly mentorship. God knew what he was talking about in Titus 2. Mentorship changes lives. 
As long as God keeps the door open for Ellissa and me to meet regularly, we will! I mean…who knows what awesome things could happen in the next five years. 
Regardless of your age or stage of life, mentorship and discipleship are God's good plan for us, as Christians. I hope you'll prayerfully consider what a mentorship relationship could look like in your own life! To learn more about how to get a mentor and how to be a mentor, check out these other helpful posts:
How I Found a Godly Woman to Mentor Me
How to Mentor and Disciple Another Girl
How to Mentor a Younger Christian Girl (VIDEO) 
I'd love to hear from you below! 
In what ways do you think having a godly older mentor would impact your life? 

What is keeping you from reaching out to a younger woman and becoming her mentor?