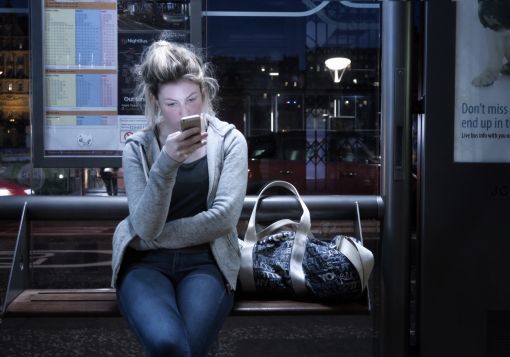 I recently read about a girl who was strolling through a local grocery store, when she felt a sudden and overwhelming urge for a chocolate candy bar.
The urge became so powerful that she forgot what she was doing and headed straight for the candy aisle. She searched the options wondering which one she should choose.
She spotted one she had never seen before. The label pulled at her desire with words like "Great new taste!" "Satisfaction guaranteed!" "No more hunger cravings!" The girl grabbed the candy bar and started savoring the first bite. Her entire being was enraptured in the moment. She loved the way the candy made her feel.
It was so gratifying that she was sure she would never need another one again.
All of the sudden the girl noticed a strange and disgusting flavor. Instead of eating smooth chocolate, she realized she was actually chewing on mud and gravel. The nasty taste became overbearing, and the girl's stomach started to churn at the thought of what was in her mouth.
She ran to the water fountain, spit out the muddy mixture, and rinsed out her mouth. After a long moment at the water fountain, the girl looked down at the remainder of the candy bar in her hand. Her thoughts drifted back to how creamy and delicious that first bite of candy tasted, and suddenly she longed for more
Although that story is fiction, it gives us a very clear picture of how pornography works.
Pornography covers itself in a candy-coated package offering up promises like "Satisfaction guaranteed!" and "No more cravings!" At first (like the candy bar), it seems to deliver those promises, but only for a short time.
In the end, you find yourself feeling disgusted by what you did and, at the very same time, strangely craving for more.
According to recent research, it's estimated that 9.4 million women access adult pornographic websites every single month. Sadly, that number grows greater by the year. Girls of all ages are finding themselves enslaved to pornography with no power to escape.
If you are one of those girls struggling in this specific area, I have great news for you. There is hope!
If you have trusted Christ as your personal Savior, you can have hope and lasting freedom in this area. The truth is, in and of yourself you have no power to escape, but with the power of Christ dwelling inside of you, you can find freedom. Sin and death were overcome by Jesus at the cross.
There is no sin in the world that is too big for God to conquer.
If you are struggling with pornography and desire to find lasting freedom in this area, let me encourage you to start by considering these 4 initial steps of action:
1. Confess your sin to God. 
"If we confess our sins, he is faithful and just to forgive us our sins and to cleanse us from all unrighteousness." John 1:9
2. Ask God to cleanse and renew your mind. 
"Do not be conformed to this world, but be transformed by the renewal of your mind, that by testing you may discern what is the will of God, what is good and acceptable and perfect." Romans 12:2
3. Ask God to help you fill your mind with holiness and truth. 
"Finally, brothers, whatever is true, whatever is honorable, whatever is just, whatever is pure, whatever is lovely, whatever is commendable if there is any excellence, if there is anything worthy of praise, think about these things." Philippians 4:8
4. Do whatever it takes to get rid of pornography.
Throw away books, magazines, TVs, computers, etc. Matthew 5:29 says, "If your right eye causes you to sin, tear it out and throw it away. For it is better that you lose one of your members than that your whole body be thrown into hell."
Be willing to take drastic measures. It's worth it! If you are serious about destroying this sin in your life, take serious steps. Don't let pride or embarrassment get in the way of gaining victory.
I want you to know that you do not have to continue on in your secret struggles.
These verses are only the start of what Christ has to offer on gaining victory in this area. I encourage you to talk to your parents or pastor's wife about your struggle. If you genuinely want true freedom and lasting joy, you need accountability and guidance that this blog can't offer you.
I highly, highly encourage you to talk to an older and wiser woman about your struggle. Remember one of the best ways to gain lasting freedom in this area is through accountability (Gal. 6:12, Ecc. 4:9-12). Don't try to overcome your struggle on your own.
There truly is strength in numbers.
As much as we would love to help you further, we don't have the ability to do that in this blog post. Thankfully there is an amazing Biblical counseling center that offers free counseling. If you are desperate for help and want to overcome your struggles, I would recommend getting it touch with a biblical counselor. You can find a biblical counselor (free of charge) in your very own city by going to this link.
There are also some extremely helpful ministries that can provide accountability and filtering services. You can check both of those out right here: Safe Eyes and Covenant Eyes

You can also check out some of our additional blogs and vlogs to help you gain victory over this battle.
3 Ways Porn Wrecks a Girl's View of Herself
Porn: What Every Christian Girl Needs to Know
5 Truths to Help You Destroy Secret Sexual Sin
I would love to hear from you.
What has helped you fight the battle against porn?
What verses have you encouraged you as you fight for purity?