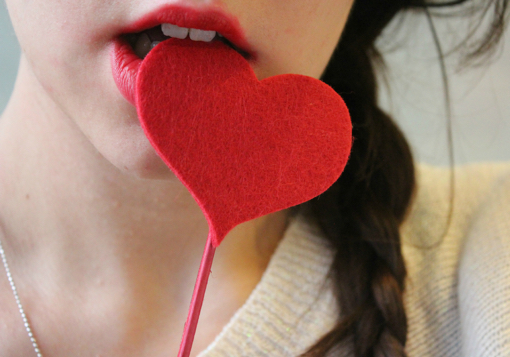 If you've believed the lie that pornography is something hidden in the deepest corners of the internet, you've been duped. Whether you've been exposed to porn or not, you have probably already gone through years of soft porn grooming without even realizing it.
If you're like I was, you probably think of porn as being some form of intense adult content only targeted at men…but it's not.
Listen carefully to how the dictionary describes porn:
"Sexually explicit videos, photographs, writings, or the like, produced to elicit sexual arousal."
Did you catch that last part? "Produced to elicit sexual arousal." How many mainstream movies, songs, books, TV shows, and magazines are created to elicit sexual arousal? Try…a large majority of them.
If you're in the the habit of watching mainstream TV shows, secular music videos, reading magazines like Glamour or Cosmo, and shopping at the mall regularly, you're being groomed for an appetite for porn.
Whether you realize it or not, your mind is being slowly desensitized one day at a time.
If you want to spare yourself from a future porn addiction (which is becoming more common for women), you have to do way more than guard yourself from the "biggies." It's the little things that will get you today.
Here are 5 subtle ways our culture is tempting you towards porn:
1. Mainstream Movies
When you were a little girl, Hollywood told you that true love is nothing more than butterflies and happily ever afters. But, when you hit your teen years, what happened? Hollywood portrayed "true love" as steamy sex scenes and one night stands.
Chick flicks are a huge culprit and they're targeted directly at you. Many of these movies are filled with glorified premarital sex scenes, steamy adultery, sexual innuendos, and nudity. "Eliciting sexual arousal" is an obvious goal.
Every time you watch these so-called "innocent" movies, your conscience and sensitivity to purity and morality is weakened. Your view of sex is watered down. You're unknowingly one step closer to viewing porn as a harmless pleasure.
2. Secular Magazines
I was chatting with a friend the other day who shared with me how destructive Cosmo magazine had been on her as a teen. She said, "I read that garbage and soaked up their worldview about love, sex, and happiness. As a result, I moved into my adult years with an extremely distorted worldview about sex and love."
Magazines like Cosmo, Marie Claire, Glamour, and others are targeted at young single women. These magazines are filled with raunchy (premarital) sex advice, scandalous images, and dirty secrets. Nothing will groom your appetite for porn quicker than reading this trashy material. "Eliciting sexual arousal" is an obvious goal.
The more you read, the more your sexual compass is weakened.
3. Music Videos
Music used to be an experience for the ears. Not anymore. Music videos are now an extremely popular form of entertainment for young people. If you think you're watching harmless videos on MTV or Youtube, think again.
Music videos aren't about the music anymore. They're about the sexualized dance moves and seductive clothing. If you're a fan of singers like Katy Perry, Lady Gaga, Miley Cyrus, Beyonce and Rihanna, you're most likely watching their music videos. And these videos are bad news. From total nudity to elicit sex moves, you're being exposed to soft porn.
Every time you fill your mind with these raunchy and elicit videos, you're unknowingly building a craving for more.
4. Romance Novels
Girls are dreamers. We love imagination, right? We flock to "love stories." Romance novels are written with the female gender in mind. They're written in a way to draw us in and provoke us to vicariously experience what's happening.
Secular romance novels (and some Christian) are written with the purposeful intent to "elicit sexual arousal." I've heard it said many times that romance novels are porn for girls. The recent mainstream acceptance of ertotic books like Fifty Shades of Grey is as close as it gets to reading porn.
Reading explicit material like this will pollute your mind and fill you with a strong desire for darker and heavier content. Romance novels and erotica will push you one step closer to falling into a porn addiction.  
5. Social Media  
Chances are you're on some form of social media.
Social media (Facebook, Twitter, Pinterest, Instagram, Snapchat, etc.) have a good side and a bad side. Unfortunately, there's not a large chasm separating the two.
I have personally, and unintentionally, stumbled across nude and highly provocative images on several of these platforms. I was innocently going about my normal business, clicked on an innocent hashtag, and wham. I was shocked.
If you think all social media sites are safe, think again. It's extremely easy to stumble across sensual, sexualized and even nude images. All it takes is a little exposure to create an instant curiosity and appetite for more.
By seeing these unhealthy images on a regular basis, you're unknowingly being taught that it's normal to see naked/half-naked people. Be extremely careful when using social media. If one site is constantly exposing you to a lot of garbage, just say no to it altogether.
Living in a raunchy, sensual, and over-sexualized culture isn't easy.
I hope you can see that it's not just the "biggies" that you need to be fighting against, but all of the many little things that bombard you every day. Many well meaning girls, just like you, find themselves addicted to porn and they have no idea how it started.
This is where it starts. This is where the battle for your mind and heart begins. In the little things. In the small compromises. In the subtle numbing of your conscience. The battle for your mind and heart starts now.  
I challenge you to reevaluate your life in the five areas I mentioned above.
Are you compromising in any of those areas? Are you flirting with sexual temptation in any way? Are you tempting yourself towards an appetite for porn?
Is so, cut it off. Run from it. Confess your weaknesses and failures to an older, godly woman (maybe even your mom) and ask someone to hold you accountable. Choose to be wise in what you watch and look at.
For additional reading on this topic, I highly recommend these posts:  
Lust: A Christian Girl's Problem Too
Mind-Virgin: Saving More than Just Your Body
I would love to hear from you now.
In what ways do you see the culture grooming your appetite for porn?

Are you currently engaging in something that is dulling your moral compass? If so, what steps do you need to take to stop?

What solutions have you come up with to protect yourself from this sexual onslaught?
Photo credit: Here