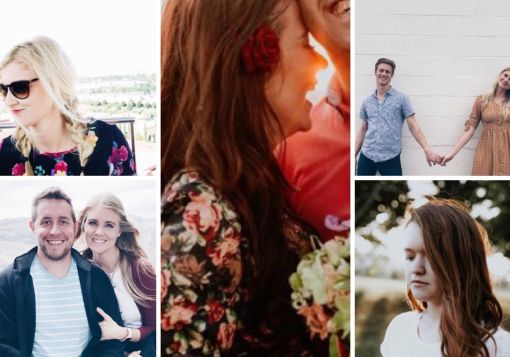 This past year has been one of the most exciting years the two of us have ever experienced at GirlDefined.
The testimonies that we heard in person, online, and through email were absolutely incredible. Some of you grew in your relationship with Christ. Some of you accepted Christ as your personal Savior for the very first time. Some of you found freedom from habitual sin. Some of you found the courage to pour into other young women.
The list could go on.
God is working mightily amongst the Girl Defined Sisterhood and we are thrilled to be a part of that work.
This past year we launched our brand new book, Love Defined: Embracing God's Vision for Lasting Love and Satisfying Relationships. We wrote a new book Sex, Purity, and the Longings of a Girl's Heart: Discovering the Beauty and Freedom of God-Defined Sexuality (set to release April 30, 2019).
We also published 104 new blog posts and 52 new video posts.
That's a lot of content…and we're guessing you probably didn't catch every single one. Since you probably don't have time to "catch up" on the archives (although that's not a bad idea), We thought we'd ring in the New Year by bringing you the very BEST posts from 2018.
You can also catch some of our popular YouTube videos here.
These are the top 5 most popular blog posts of 2018.
If you haven't read them, we HIGHLY recommend it. There's no better way to start your year off right than filling your mind with truth.
Drumroll, please……
5. Kristen's Love Story with Zack (part 1 & 2)
It was a warm Texas afternoon in May of 2006 when I laid eyes on Zack Clark for the very first time. I still remember the exact moment I noticed him. I was attending a Christian conference with my family and He was sitting several rows in front of us. I'll be honest, his strong and tall physique, sandy blonde hair, and tan skin were the first things that caught my eye.
But after meeting him the next day, I could tell there was something special about this guy. As I watched him interact with the people around us, he seemed very genuine, kind, and a natural leader. I was definitely intrigued.
After several days, we all parted ways at the conference. READ PART 1 (READ PART 2)
4. Why I'm Still Saving My First Kiss for My Future Husband
The moment I announced my relationship with David the questions started flooding my inbox. Specifically questions about our physical boundaries.
Will we hold hands? Do use a chaperone? Do we hug? Do we do stuff alone? What about being alone at night? In a house? Etc etc.
I totally get it. I would be asking the exact same questions.
In fact, I've asked other newly dating or courting couples those very same questions. I want to know what a healthy, God-honoring, Christ-centered relationship is supposed to look like. I want to know if there is a correct way to go about physical boundaries. READ POST
3. 136 Questions to Ask in a Relationship
I can't even begin to count how many of you have asked me for this list of questions. Ever since I announced that Dav (my fiance) and I worked through this list of questions during our dating relationship, hundreds of you have asked me for this list.
If you're in a relationship, I would encourage you to use this list as a resource to help you get to know your boyfriend/fiance better. If you want to be in a relationship, I encourage you to use this list as a tool to help you think through each one of the answers.
This is a long list, but it does not include everything you need to know or ask. READ POST 
2. Same-Sex Attraction and the Christian Girl
She experienced same-sex attraction for the first time when she was five years old. These feelings were a part of her life as long as she could remember. As she grew into a teenager the feelings only intensified. By age seventeen, she pursued her first female relationship and openly embraced her life as a lesbian.
Then, at age nineteen something radical happened in her life. She was introduced to a man named Jesus. She had never known a love so powerful before. She had never experienced a love so intimate and satisfying. Over the next few years, Jesus transformed her life from the inside out.
This is the true story of a woman named Jackie Hill Perry READ POST
1. Am I Nervous About the Wedding Night?
I'm a 30-year-old virgin who's getting married in less than a month. It makes sense why so many of you keep asking me if I'm nervous about the wedding night.
Honestly, this is a pretty personal question.
You are asking me if I'm nervous about having sex with my brand new husband for the very first time. Although it's personal, I want to answer it. I want you to know what I'm thinking and how I'm feeling.
Here goes. READ POST
And there you have it!
Those are the top 5 most popular posts from 2018. The two of us highly recommend taking the time to read each one as you launch into the new year. God is SO good and we can't wait to see what He is going to do in YOUR life this coming year!
If you're looking for additional ways to be challenged as a Christian girl this year, I encourage you to read our books:
Girl Defined: God's Radical Design for Beauty, Femininity, and Identity
Love Defined: Embracing God's Vision for Lasting Love and Satisfying Relationships